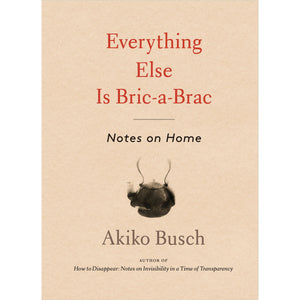 Everything Else is Bric-a-Brac
Notes on Home
Description
A collection of 60 short prose pieces by best-selling author and design critic Akiko Busch that reflect, in her classic style of observation, on the human condition and offer insights on family, domestic space, and a changing environment. Beautifully illustrated with 20 pieces of watercolor art, this collection makes an inspirational gift.
In Everything Else Is Bric-a-Brac, Akiko Busch explores place, memory, and the ambiguities of domestic life. At once thought-provoking, humorous, and meditative, these essays illuminate the emotional resonance of inanimate things; ideas of placement and displacement; the simultaneous frailty and tenacity of human recollection; the beauty of usefulness and uselessness alike; and how we do—and don't—find our place in things.
PRAISE FOR EVERYTHING ELSE IS BRIC-A-BRAC...
"Akiko Busch's short prose pieces are precise, evocative, honest, and graceful. In one essay she writes that "…there is a thin line between what is ordinary and extraordinary" and in Everything Else is Bric-a-Brac, I found myself in an extraordinary world of the everyday as seen through her eyes.  The momentum of the writing carried me the way that poems can, taking me to new and unexpected places of depth and resonance."
– Stuart Kestenbaum, Author and Maine Poet Laureate (2016-2021)
"Essayist and design critic [Akiko] Busch shines a light on the little flaws and bits of imperfection that make a house a home in this collection of thoughtful essays."
– Booklist