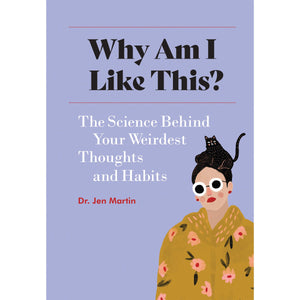 Why Am I Like This?
The Science Behind Your Weirdest Thoughts and Habits
Description
With answers to some of our most anxiety-inducing questions, such as "Why do I cringe at teenage me?" and "Why do I keep putting things off?" this insightful guide to our shared human experiences and quirks delves into the science behind 32 of our strangest thoughts and habits.
Award-winning educator Dr. Jen Martin has created the perfect Q&A guide for the curious. In Why Am I Like This? she provides research-based explanations for popular questions about everything from overcoming anxiety and FOMO to why smells make us homesick and why we stick our tongues out when we concentrate.
If you've ever wondered about the psychology and science behind the oddities of our daily lives, this accessible, entertaining, and informative guide is sure to educate you on what, exactly, makes you tick. This charming, vividly illustrated book makes the perfect gift for anyone who has ever stopped to wonder "Why?"
PRAISE FOR WHY AM I LIKE THIS?...
"Each lively study is brief and accompanied by bright, funky illustrations, making this a fun book to page through."

– Booklist