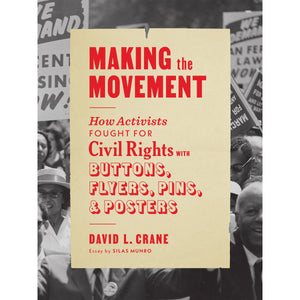 Making the Movement
How Activists Fought for Civil Rights with Buttons, Flyers, Pins, and Posters
Description
Packed with over 200 color photos, this visual journey through Black history and the Civil Rights Movement is told through the objects—buttons, badges, flyers, pennants, posters, and more—designed by activists as tools to advance the fight for justice and freedom, offering a unique perspective on the Civil Rights Movement from Emancipation through the present day.
From Reconstruction through Jim Crow, through the protest era of the 1960s and '70s, to current-day resistance and activism such as the Black Lives Matter movement, the material culture of the Civil Rights Movement has been integral to its goals and tactics. During decades of sit-ins, marches, legal challenges, political campaigns, boycotts, and demonstrations, objects such as buttons, flyers, pins, and posters have been key in the fight against racism, oppression, and violence.
Making the Movement presents more than 200 of these nonviolent weapons alongside the stories of the activists, organizations, and campaigns that defined and propelled the cause of civil rights. It is a must-read for anyone seeking to learn about Black and African American history in the United States and about strategies to combat racism and the structures that support it.
PRAISE FOR MAKING THE MOVEMENT...
"[A]n impactful book that makes a powerful statement about the struggle for equality in the nation's history, a statement with the potential to inspire future generations."
– Library Journal 
"David L. Crane has written a defining account of the impact of material culture on movements for racial justice and civil rights in the United States. He presents the visual evidence of the ways that advocates and adherents dared to wear their demands for justice literally on their sleeves. Through Crane's presentation, we gain newfound appreciation for the courage of activists and ordinary citizens who waged struggles for freedom. Crane's careful historical, social, and political analysis allows us to understand that items such as buttons, placards, posters, and postcards have always been the essential apparatus of liberation and justice movements in meeting the specific demands of each era. We are witnesses to how these images and items-some of which are now iconic communicated loudly while soundless in ways that have informed and empowered, and have come to change laws, and in some instances, minds."
– Professor Paula C. Johnson, Director, Cold Case Justice Initiative, Syracuse University College of Law
"Comprehensive and well worth the read. Rich in photographs as well as in thoughtful words, Making the Movement helps tell the story as the story should be told and will prove especially useful to those who wish to pass on the Movement story to others."
–  Charles Cobb, SNCC veteran and author of This Nonviolent Stuff'll Get You Killed: How Guns Made the Civil Rights Movement Possible
"In an era when movements are propelled through social media, Crane has written a mesmerizing book about the power of cultural objects to effectuate change. The book chronicles the Civil Rights Movement and the objects (buttons, posters, flyers, pamphlets, and signs) wielded by activists to change history. There is no other comparable publication on this subject. It is a masterful book."
–  Dr. Mark Ellis, Executive Director, International Bar Association
"Making the Movement compiles over 150 years of the material artifacts of the most consequential democratic movement in our nation's history, the long movement for civil rights. The story of Reconstruction, the rise of Jim Crow and racial terror, key figures and organizations, court decisions, legislative actions, and the power of grassroots mobilization are all revealed in the material culture so ably contextualized in this volume. Making the Movement is an important scholarly contribution, but many of us will simply want to have it in our private collections as an indispensable resource to understanding the Civil Rights Movement, with its material culture and David Crane as our guides."
–  Brian M. Harward, Professor and Robert G. Seddig Chair in Political Science, Allegheny College
"Making the Movement describes the indispensable tools-buttons, flyers, pins and posters- that were used to advance the struggle for human and civil rights. Flyers were the primary instrument of mass communications. They recruited people for the sit-ins, informed communities for voter registration drives, and calls for mass demonstrations. Button and pins were used by those engaged in the 1960s Civil Rights Movement to show their commitment to the cause of freedom. Posters were primarily used to engage the American public and raise funds to support various civil rights organizations."
–  Courtland Cox, SNCC Veteran Chair, SNCC Legacy Project
"The Robert H. Jackson Center was the beneficiary of the 2013 world premiere of David L. Crane's absorbing and poignant exhibit, Making the Movement: Civil Rights Museum. We saw firsthand the impact it had on Chief Justice John Roberts and Dr. Julian Bond. Now, we are thrilled this unique project, more timely than ever, can be shared worldwide by Mr. Crane's new book. This is new and insightful ground."
–  Gregory L. Peterson, Co-Founder and Former Director, Robert H. Jackson Center