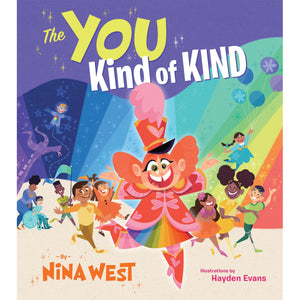 Description
Go Big!
Be Kind!
Be You!
Welcome to a magical adventure to discover kindness in the world—especially the kind inside you.
In this heartfelt and joyous story, little Nina embarks on a boisterous day of exploration, a colorful day where she sets out to find, well, Kind. With a backpack full of her favorite things, Nina guides readers through the neighborhood to identify kindness in the wild. Along the way she shines a light on the importance of loving yourself as well as others, revealing that sharing your unique form of kindness—the you kind of Kind—is the most wonderful gift of all.
Readers of any age will have a WUZZFASTIC time reading this linguistically luscious book out loud and will delight in its empowering message of kindness, community, love, and inclusion.
DOWNLOAD THE YOU KIND OF KIND EDUCATOR'S GUIDE ("Celebrating Kindness in the Classroom")
DOWNLOAD THE YOU KIND OF KIND ACTIVITY GUIDE ("The Wuzzfastic You Kind of Kind Discover Guide-a-Rama")
PRAISE FOR THE YOU KIND OF KIND...
"Well, to quote some lines in a song I wrote, I always say: 'Whatever you are, be that. Whatever you do, do that. Anything else is just an act. Whoever you are, be that, be that. Whatever you are, be that.'  Nina West's The You Kind of Kind teaches the same lesson—just be yourself!" 
– Dolly Parton
"A charming message about the power of kindness through text packed with bolded and capitalized made-up words that beg to be read aloud. Evans' colorful illustrations brim with manic energy. It's this very lively and engaging presentation that keeps the book from becoming preachy. A timely message delivered with verve."
– Kirkus Reviews
"Shifting type sizes, made-up words, and Evans's bold and visually busy digital artwork, which portrays individuals with varying body types and skin tones, fittingly align with the book's laudable advice to 'GO BIG!' and 'BE YOU!'"
– Publishers Weekly