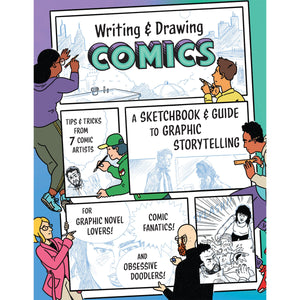 Writing and Drawing Comics
A Sketchbook and Guide to Graphic Storytelling (Tips & Tricks from 7 Comic Artists)
Description
The perfect gift for aspiring artists and fans of comics, graphic novels, and manga, this guided sketchbook provides templates for graphic storytelling, along with ideas, tips, and tricks from comic artists.
Whether you're just getting into sketching or are a practiced artist, this colorful, engaging guided sketchbook provides a mini-course in graphic storytelling with blank templates to help you get started on your illustration journey.
Learn by example through artwork, tips, and tricks from seven established comic artists, all with differing styles and backgrounds. Explore the art of making comics via funny and engaging exercises that show you how to convey emotion, time, and perspective through drawing, sequencing, storytelling, and character creation. The expert guidance in this sketchbook will help you develop and expand your drawing and storytelling skills, allowing you to unleash your true artistic potential.
Contributors: Simon Bailly, Ruth Chan, Joel Christian Gill, Brian Herrick, Hyesu Lee, Dan Nott, and Daryl Seitchik.