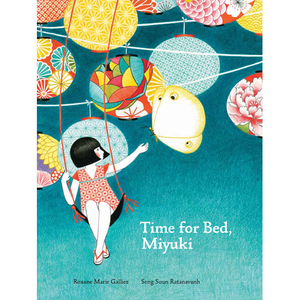 Description
Outstanding Merit, Bank Street Best Children's Books of the Year
"The striking artwork brings Miyuki's imagination to life with wondrous, bright colors that curiously set a dreamy stage for this gorgeous bedtime story that also highlights intergenerational family bonds." —The Children's Book Review
"…gloriously colorful and imaginative" —The New York Times Book Review
A beautifully illustrated story for any young reader whose imagination peaks at bedtime, from award children's book author Roxane Maria Galliez, with stunning Japanese-inspired artwork by Seng Soun Ratanavanh.  
Miyuki doesn't want to go to bed— there are just too many things to do! She needs to water the vegetables, gather snails, and prepare for the arrival of the Dragonfly Queen. Luckily, her patient grandfather follows along on her adventures, gently encouraging her to go to sleep.
In this beautiful story about family, nature, and love, young children and their parents will find a welcome companion for their own bedtime journey.


Editorial Reviews
The Children's Book Review
The striking artwork brings Miyuki's imagination to life with wondrous, bright colors that curiously set a dreamy stage for this gorgeous bedtime story that also highlights intergenerational family bonds.