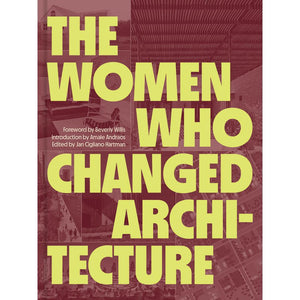 The Women Who Changed Architecture
Description
A visual and global chronicle of the triumphs, challenges, and impact of over 100 women in architecture, from early practitioners to contemporary leaders.
Marion Mahony Griffin passed the architectural licensure exam in 1898 and created exquisite drawings that buoyed the reputation of Frank Lloyd Wright. Her story is one of the many told in The Women Who Changed Architecture, which sets the record straight on the transformative impact women have made on architecture. With in-depth profiles and stunning images, this is the most comprehensive look at women in architecture around the world, from the nineteenth century to today. Discover contemporary leaders, like MacArthur Fellow Jeanne Gang, spearheading sustainable design initiatives, reimagining cities as equitable spaces, and directing architecture schools. An essential read for architecture students, architects, and anyone interested in how buildings are created and the history behind them.
PRAISE FOR THE WOMEN WHO CHANGED ARCHITECTURE... 
"The Women Who Changed Architecture...gets to one of the major issues in design: Who ends up getting credit and recognition for their work, and how does that affect the way buildings and cities are designed? The book includes 122 women working in architecture from historic figures like Lina Bo Bardi to contemporary architects like Billie Tsien and Neri Oxman."
– Curbed
"The authors of The Women Who Changed Architecture take a permanent marker to the field as we've come to know it, boldly underscoring the profound achievements of more than 100 women." 
– Dwell
"As an effort to reframe women's impact, contributions, and participation in the profession of architecture, it is essential for collections that cover architecture or design."
– Library Journal (STARRED REVIEW)
"An essential compendium of influential women designers from the late 19th century to today....Accompanied by beautiful photos, this collection of biographies showcases the industrious and unique paths each woman forged to master their craft, even when credit was often given to their male partners or bosses."
– ARCHITECT Magazine
"The appeal of surveys like The Women Who Changed Architecture is that they can be dipped into at leisure and in no particular order, and they often yield surprises from the sheer volume of entries and the subject matter they focus on. Given my own exposure to far too many men in architecture, the surprises in this book are many, especially in the early chapters, when for every Lilly Reich, Natalie Griffin de Blois, and other familiar name there are as many new to me."
– A Daily Dose of Architecture
"This highly anticipated survey shines a light on the groundbreaking women whose impact on the field of architecture has long been overlooked. Filled with comprehensive profiles and eye-opening photography, The Women Who Changed Architecture tells the story of over 100 female architects, from the 19th century to today, and their roles in shaping the way we build the homes and buildings around us."
– Veranda
"...a 336-page book that's as astounding as it is revealing."
– Architects + Artisans

"An extensive catalog of women architects that is far more exhaustive than other recent, similarly themed books. One cannot help but be encouraged and inspired by the vivid professional and personal life stories."
– ALA/Choice