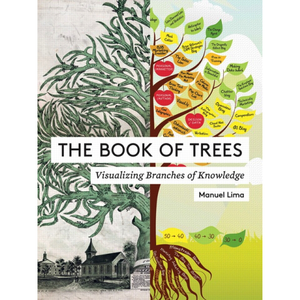 The Book of Trees
Visualizing Branches of Knowledge
Description
Our critically acclaimed bestseller Visual Complexity was the first in-depth examination of the burgeoning field of information visualization. Particularly noteworthy are the numerous historical examples of past efforts to make sense of complex systems of information. In this new companion volume, The Book of Trees, data viz expert Manuel Lima examines the more than eight hundred year history of the tree diagram, from its roots in the illuminated manuscripts of medieval monasteries to its current resurgence as an elegant means of visualization. Lima presents two hundred intricately detailed tree diagram illustrations on a remarkable variety of subjects, from some of the earliest known examples from ancient Mesopotamia to the manuscripts of medieval monasteries to contributions by leading contemporary designers. A timeline of capsule biographies on key figures in the development of the tree diagram rounds out this one-of-a-kind visual compendium.
Tree diagrams suggest strategies for representing data across many disciplines, including science, law, geneology, linguistics, economics, and sociology
Includes fascinating examples, such as early conceptualizations of heaven and hell, kinship diagrams of kings of France and West Virginian mountaineers, and analyses of recipe ingredients
Editorial Reviews
The Boston Globe
Manuel Lima has selected 200 tree diagrams that make a remarkable variety of subjects understandable.
Cool Hunting
The data visualization master's new work gives a history and analysis of leafy diagrams....Each chapter elucidates different styles of tree visualizations, many of which the layperson might not recognize without Lima's sound guidance.
Publishers Weekly
Sure to appeal to a diverse group of readers, the book beautifully combines are and science, as well as ancient and contemporary worldviews.
Hyperallergic
Now for the first time this often overlooked icon of information has its own in-depth historical book.
New Scientist
From studying the bible to visualizing computer storage, Manuel Lima's sumptuous The Book of Trees explores the tree diagram's appeal for showing information.
Communication Arts magazine
This one-of-a-kind visual compendium from ux designer Manuel Lima traces the remarkable history of the tree diagram, an appealing and pliable metaphor that has helped organize information for more than 800 years...More than 200 richly detailed tree illustrations reveal why the original data viz design archetype still remains the most popular.
Illustration Voice
For illustrators who enjoy maps and diagrams, this book is sure to be both resource and inspiration.
Fast Company
Manuel Lima's illustrated history The Book of Trees chronicles how Medieval-era designers instinctively used trunk and branch diagrams to impose order on the explosion of new data. One millennium later, tree-based graphics continue to pack considerable punch as information delivery systems.