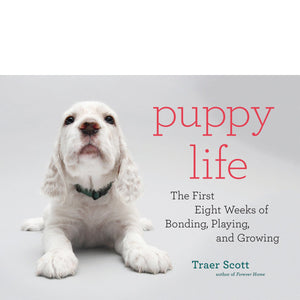 Puppy Life
The First Eight Weeks of Bonding, Playing, and Growing
Description
The perfect gift for dog lovers and new puppy parents alike, Puppy Life follows the stages of development of six litters of puppies across breeds from birth through eight weeks. Featuring 120 full-color photographs from best-selling animal photographer Traer Scott, this exploration of puppyhood is ideal for fans of The Dogist and Finding Home.
Tracing six litters of puppies from birth through eight weeks, Traer Scott takes you on a photographic journey through puppyhood. Her full-color photography provides a visual diary of how dogs mature and grow, as well as information about each stage of puppy development leading up to the day each puppy goes to its forever home.
Follow the stories of these litters across different ages, with informative text about each breed and developmental stage:
English Setters
Great Pyrenees
Cavalier King Charles Spaniels
Labradors
Mixed Breed
Adorable and educational, this beautifully photographed guide to puppies is sure to melt your heart.
PRAISE FOR PUPPY LIFE...
"There's no doubt, the photographs in this appealing little book will creep into readers' hearts immediately and cause them to succumb to an irresistible urge to call a breeder or visit a shelter and adopt a puppy!...[A] visual delight."
– Library Journal