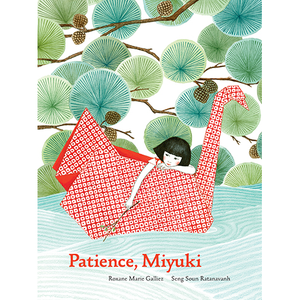 Description
"The illustrations in some picture books are so devouringly gorgeous…It's a beauty." —The Wall Street Journal
"Galliez's lively, descriptive text pairs nicely with Ratanavanh's bright, graphic illustrations that feature bold floral patterns…Eager young readers will find a kindred spirit in eager Miyuki." —Kirkus Reviews
A charmingly illustrated picture book and story that teaches young readers the art of patience and the skill of waiting, by award winning children's book author Roxane Marie Galliez, with colorful Japanese-inspired artwork by Seng Soun Ratanavanh.
Miyuki is excited for the first day of spring—she can't wait to rush outside and greet the cherry trees, the sweet grass, and all the garden flowers. But one little flower has yet to bloom. Miyuki is impatient for it to awaken, but her wise and understanding grandfather encourages her to slow down, watch, and wait.
This enchanting intergenerational story about nature, kindness, and patience invites children to experience the joy in learning that good things come to those who wait.
Editorial Reviews
Kirkus Reviews
Galliez's lively, descriptive text pairs nicely with Ratanavanh's bright, graphic illustrations that feature bold floral patterns in red, yellow, and green as well as iconic Japanese objects such as the swan. Throughout, natural elements such as flowers, rushing water, insects, birds, and more appear prominently both in the foreground and the background, and Ratanavanh plays a bit with perspective as well--sometimes Miyuki appears quite small next to a giant frog and a big white rabbit. Eager young readers will find a kindred spirit in eager Miyuki.
Foreword Reviews, STARRED REVIEW
Bursting with enthusiasm at the first signs of spring, Miyuki ignores her grandfather's reminders to be patient and wanders far from home in search of the purest water to entice a promising bud to blossom. The book's springtime scenes, lucky cats, and colorful yukata in origami paper patterns pay cheerful tribute to traditional Japanese style and customs. It's destined to be a modern classic.
The Wall Street Journal
The illustrations in some picture books are so devouringly gorgeous that it almost doesn't matter what the words say. That's the case with Seng Soun Ratanavanh's pictures in Patience, Miyuki, which tells of a little girl's transports on the first day of spring. In glorious pictures that set a delicacy of line amid swaths of Japanese patterns, Ms. Ratanavanh plays with proportion in a way that evokes the swoops and darts of a child's imagination. Here Miyuki towers over the recalcitrant flower; there she's tiny enough to nestle in its rosy petals. It's a beauty.
Financial Times
French writer Galliez, ably assisted by Laotian-born illustrator Seng Soun Ratanavanh, offers an exquisite, Zen-like fable about a young Japanese girl and the flower she is desperate to see bloom. The lesson: all things come in their time and cannot be hurried.