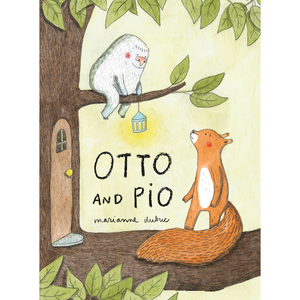 Description
Otto the squirrel is perfectly content living by himself in his treehouse in the forest, when a small creature, Pio, arrives on his doorstep, looking for his mother, and Otto invites him in. Pio eats all the hazelnuts, takes up the entire bed, and just gets bigger and bigger! Though Otto worries he may not be very good at caring for a little creature, Pio is very happy. Otto and Pio is a heartwarming tale about finding love and family when it is expected least and needed most.


Editorial Reviews
The Wall Street Journal
Marianne Dubuc's delightful tale of oddball friendship and unexpected domesticity.
The Horn Book Magazine
The soft, warm watercolor and colored-pencil palette of the forest and Otto's home provides the perfect backdrop to diffuse tension within this developing friendship. Full of funny moments and details, the full-page illustrations and spot art move the plot along, while well-placed double-page spreads pause the tale to heighten its emotion. This tender look at the value of taking care of each other quietly considers the meaning of home and family.
Bookish
This book is a lovely reminder that you don't need to be related to be family.
Cool Mom Picks
Marianne Dubuc's newest story, Otto and Pio, is a charming take on finding friendship and family when you least expect it. Your kids will laugh at the friendship these characters share.
School Library Journal, STARRED Review
A family tale that teaches children how love makes a home. Dubuc has created a simple and beautiful story that is perfectly matched with her intricate illustrations. The colors are soft and bright, giving readers a warm fuzzy feeling as they travel through the story. The entire book is clean and simple, not too difficult to follow, and explains an often-complex relationship in the best way possible. This engaging read-aloud will warm children's hearts. It has a terrific message about the importance of family and how to care for those you love. An excellent and timeless selection for all picture book shelves.
Booklist
Dubuc's soft watercolor-and-pencil illustrations unfold as individual scenes--often two per page--that trace Otto's fruitless search and Pio's astonishing growth, which poses a whole new set of problems. Pio steadily turns Otto's house into a home by cleaning, decorating, and making soup while Otto is away. These small acts are heartwarming for readers and Otto alike, effectively demonstrating how love and family can come in all shapes and sizes.