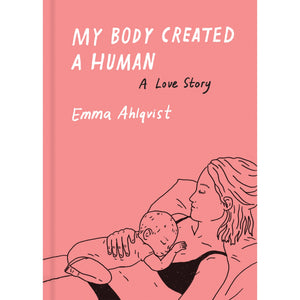 My Body Created a Human
A Love Story
Description
This graphic novel–style memoir about the weirdness and wonder of pregnancy and early motherhood is told with humor, frankness, and honesty. The perfect gift for new parents, parents-to-be, or anyone interested in the experience of bringing a new human into today's world.
Emma Ahlqvist's graphic memoir about the birth and early moments of raising her first child is a wry and resonant portrayal of both the challenges and excitement of pregnancy, birth, breastfeeding, and embracing the experience of motherhood. Told through black-and-white drawings and short, frank captions, Ahlqvist considers everything from lactation woes to anxieties about late-stage capitalism and global warming, with drawings centered on the gendered division of labor, her efforts to maintain a professional and artistic life after having a baby, and the genuine rewards of bringing a child into the world.
Unflinching, relatable, and funny, My Body Created a Human portrays the stress and joys of parenthood—without the rose-colored glasses—and invites laughter, empathic nods, and exclamations of "You too?" Organized into thematic chapters like "Postpartum" and "A Mother and an Artist," Ahlqvist's drawings can be enjoyed all at once, or browsed and savored during late-night and early-morning wake-ups.
PRAISE FOR MY BODY CREATED A HUMAN...
"This dreamy [book] about new motherhood deftly examines the highs and lows of bringing a tiny creature into the world. Ahlqvist's illustrations are raw and engaging, and she confronts difficult topics (like financial strain and postpartum sex) with honesty and humor. A gift from start to finish."
–  Grace Farris, author of Mom Milestones
"[A] beautiful book. It's so lovely and heartfelt and true. It will resonate with so many new parents, and make them feel heard and understood."
–  Lucy Knisley, author of Kid Gloves and Stepping Stones
"Many a new mom will relate."
– YourTango