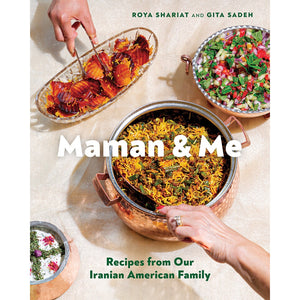 Maman and Me
Recipes from Our Iranian American Family
Description
A gorgeous cookbook filled with 78 delicious cook-at-home Iranian American recipes from beloved mother-and-daughter duo Roya Shariat and Gita Sadeh.
You will fall in love with Roya Shariat and her mother, Gita Sadeh, as they welcome you into their home and share their favorite cherished family recipes that include soups and stews, main dishes, desserts, beverages, and so much more. The book takes a unique approach to Iranian cuisine, with recipes and twists that celebrate the evolution of Iranian food in America. Lush, full-color photographs accompany these stunning recipes, many of which are vegetarian, vegan, and/or gluten-free, and include:
Garlicky Eggplant Dip (Kashk Bademjoon)
Split Chickpea Stew with Crunchy Potatoes (Gheymeh)
Sweet and Sour Pomegranate and Walnut Stew (Fessenjoon)
Syrupy Semolina Cake (Cake-e Sharbati)
Rice! Tahdig three ways, in addition to dishes like Crunchy Baked Saffron Rice with Chicken (Tahchin)
And many more
Whether you already know and love Roya and Gita from their popular TikTok videos or are new to their warmth and humor, you are guaranteed to be inspired to make fantastic Iranian-influenced meals that will thrill your palate.