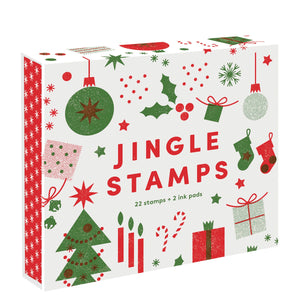 Jingle Stamps
22 stamps + 2 ink pads
Description
This Christmas-themed, mix-and-match set of rubber stamps and ink allows you to create endless festive combinations, perfect for crafty gifts, custom holiday cards, gift wrap, or decorations!
Build your own festive Christmas scene with Jingle Stamps, a charming set of beechwood-handled rubber stamps and two high-quality red and green ink pads. The kit includes a jolly collection of 22 shapes and textures—from stars and candles to stockings and candy canes—that you can mix and match to create playful holiday designs.
These stamps can be put together in endless combinations. Triangles can become Santa hats or be stacked vertically to create a Christmas tree. Dots and squares become wrapped gifts. The options are limited only by your imagination! Whether you're looking to spice up your holiday cards, create your own ornaments, or dress up an advent calendar, Jingle Stamps offers infinite possibilities to craft your own Christmas.
CHRISTMAS-THEMED STAMP SET: Jingle Stamps is a jolly collection of Christmas-themed mix-and-match rubber stamp set for adults.
PERFECT FOR ALL CRAFT PROJECTS: Use Jingle Stamps to create or embellish homemade holiday cards, decorations, ornaments, or any craft project you can dream up.
ENDLESS MIX-AND-MATCH COMBINATIONS: The collection of twenty-two shapes and textures can be mixed and matched into any festive Christmas scene. Triangles become santa hats or, when stacked vertically, evergreen trees. Dots and squares become wrapped gifts. The pieces of a candle can be repurposed into a decorative ornament. An assortment of shapes and textures offer infinite combinations and endless fun.
HIGH QUALITY RUBBER STAMPS AND INK STORED IN A STURDY BOX: The wood-backed rubber stamps and high quality inks come in a thick, sturdy box with real beechwood handles.
A PERFECT HOLIDAY GIFT: This versatile stamp set is the perfect holiday gift for friends, family, and coworker, great for any gift exchange, in a stocking, or under the tree.