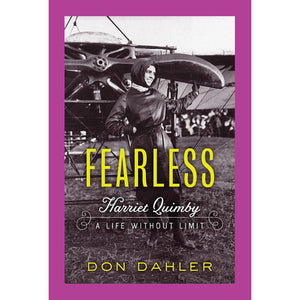 Fearless
Harriet Quimby A Life without Limit
Description
In the spirit of the bestseller Fly Girls comes the definitive and compelling true story of Harriet Quimby, the first American woman to receive a pilot's license.
In the early twentieth century, headlines declared that "the era of women has dawned." Against this changing historical backdrop, Harriet Quimby's extraordinary life stands out as the embodiment of this tumultuous, exciting era—when flight was measured in minutes, not miles.
This untold piece of feminist history unveils Quimby's incredible story: rising from humble beginnings as a dirt-poor farm girl to become a globe-trotting journalist, history-making aviator, and international celebrity. With her tragic death in 1912 at the age of thirty-seven, her story faded, with her many accomplishments—the first woman to fly solo over the English Channel among them—overshadowed by major events, including the sinking of the Titanic.
With black and white illustrations throughout, Fearless is the definitive biography of the first licensed female American pilot: one of the most inspiring hidden figures of history.
PRAISE FOR FEARLESS...
"Fearless moves as fast as Quimby flew....Mr. Dahler has done Harriet Quimby justice and given us a stirring account of an aviation pioneer and the exhilarating birth of flight."
– The Wall Street Journal
"Harriet Quimby was a reporter, theater critic, screenwriter, and aviatrix prior to her untimely death at 37 in a 1912 plane crash.  She also became the first woman to fly across the English Channel only three months before her death. This straightforward biography takes advantage of the thrilling, glamorous realms Quimby moved through, dropping all sorts of famous names and describing glittering celebrity parties and the adoring crowds who greeted her at airports."
– Booklist Online
"A tale of adventure, courage and defiance, Fearless evokes the drama of the pioneering age of flight in dangerous detail, while providing a pacy and engaging tribute to the heroism of the first woman who dared to rise so high above her given lot in life."
— CLARE MULLEY, author of The Spy Who Loved
"Amelia Earhart, move over. There's a new first lady of the skies. Award-winning journalist Don Dahler has brought the invincible—and virtually unknown—Harriet Quimby to rip-roaring life in his invaluable new biography, Fearless. You'll find yourself speed-reading through the pages, more to find out what she didn't do, at a time when women were able to do so little. And the final pages of the book kick up with Chariots of Fire-like suspense as she races to become the first woman to fly herself across the English Channel. Quimby—and Dahler—win the race with this riveting new book." 
— KIM POWERS, author of The History of Swimming and Rules for Being Dead
 "A fascinating and consequential look at a pioneering turn-of-the-20th-century woman who lived life on her own terms. Fearless is indeed the right title for Harriet Quimby. Dahler's telling of Quimby's life story and validation of her as a multi-spectrum pioneer is welcome research."
—DOROTHY S. COCHRANE, Curator, General Aviation|Aeronautics Department National Air and Space Museum

"When a book truly grabs you and flies your mind's eye to places you've never imagined, there is far more than exhilaration to the experience--it becomes a grand and memorable adventure.  Don Dahler's FEARLESS is such a book, a page-turning trip through the brief but extraordinary life of Harriet Quimby, a consummate journalist and writer, adventurer, and the holder of American pilot's license number 37.  But vicariously sharing the rickety cockpit of a 1909 Bleriot XI monoplane with Harriet is only part of the thrill of this beautifully written work.  Watching a determined and capable young woman evolve is the real adventure, and the very valid reason why you should indulge in her story."
—JOHN J. NANCE, New York Times bestselling author and Aviation Analyst, ABC World News
Don Dahler is a former correspondent for ABC and CBS and has received every major award for broadcast journalism, including two national Emmy Awards, two Edward R. Murrow Awards a Peabody Award and an Alfred I. duPont-Columbia Award. A lifelong aviation buff and the son of an Air Force officer, Dahler lives with his family in New Jersey.