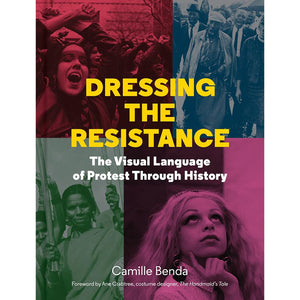 Dressing the Resistance
The Visual Language of Protest Through History
Description
Dressing the Resistance is a celebration of how we use clothing, fashion, and costume to ignite activism and spur social change.
Weaving together historical and current protest movements across the globe, Dressing the Resistance explores how everyday people and the societies they live in harness the visual power of dress to fight for radical change. American suffragettes made and wore dresses from old newspapers printed with voting slogans. Male farmers in rural India wore their wives' saris while staging sit-ins on railroad tracks against government neglect. Costume designer and dress historian Camille Benda analyzes cultural movements and the clothes that defined them through over 150 archival images, photographs, and paintings that bring the history of activism to life, from ancient Roman rebellions to the #MeToo movement, from twentieth-century punk subcultures to Black Lives Matter marches.
Includes a Foreword by Ane Crabtree, costume designer, The Handmaid's Tale
PRAISE FOR DRESSING THE RESISTANCE...
"Benda, a costume designer and dress historian, tells the story in more than 150 images, photos and paintings with loads of context in text. Take the simple topi hat, a khadi cloth envelope style popular during India's fight for self-rule. The British authorities banned it, throwing fuel on the fire."
–Associated Press
"[Dressing the Resistance] shows that fashion can be more than a passive mirror of history. It can be a catalyst for change – and an empowering tool for women....If a simple piece of clothing seems trivial to you, Dressing the Resistance is here to change your mind."
– Fast Company
"Clothing can be anything the wearer wants it to be, from a symbol of personal expression, to a class signi­fier, to simply the thing that keeps one protected from the elements....In Dressing the Resistance: The Visual Language of Protest Through History, author, costume designer, and dress historian Camille Benda explores all the ways in which fashion has been used by women as a tool of activism."
– BUST Magazine
"Dressing the Resistance: The Visual Language of Protest Through History represents a remarkable compendium of protests across the globe and across time, demonstrating to all kinds of readers (professionals and amateurs alike) the significance of dress in shaping identities and retaking the ones altered by distorting, unfair narratives....The informative and entertaining narrative of the book is very accessible and certainly will leave the reader quivering for participating in future protests with more consciousness and with an investigating eye for the endless possibilities and hopes that clothes manifest."

– The Journal of Dress History
"Reading this will not only help you understand how fashions of protests have worked themselves into the average wardrobe, but also the power you hold in your own closet."
– INSIDER