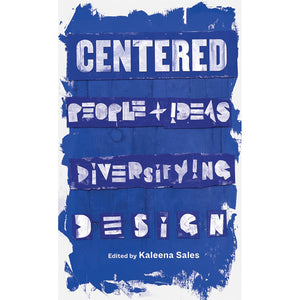 Centered
People and Ideas Diversifying Design
Description
A rich, inclusive, contemporary, and global look at design diversity, past and present, through essays, interviews, and images curated by design educator and advocate Kaleena Sales.
As the design industry reexamines its emphasis on Eurocentric ideologies and wrestles with its conventional practices, Centered advocates for highlighting and giving a voice to the people, places, methods, ideas, and beliefs that have been eclipsed or excluded by dominant design movements.
Curated by Kaleena Sales, a powerful voice and noted advocate for diversity in the design community, the thirteen essays and interviews in this volume feature important and underrepresented design work and projects, both historical and present-day.
Filled with striking visuals from a range of global designers, Centered is a must-read and must-have for design practitioners, educators, students, and anyone interested in expanding narratives and gaining a more inclusive understanding of design diversity and its impact on culture.