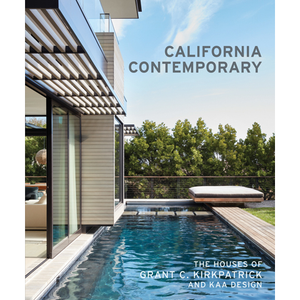 California Contemporary
The Houses of Grant C. Kirkpatrick and KAA Design
Description
A stunning collection of twelve visionary and contemporary California residential exteriors and interiors, from award-winning design firm KAA Design, founded by Grant Kirkpatrick.
The aspirational Southern California home designs of Grant Kirkpatrick and his award-winning architectural firm, KAA Design, exemplify why so many look to the region as the pinnacle of sophisticated modern living.


California Contemporary features two dozen of Kirkpatrick's magnificent custom residential designs, with a visual and narrative tour of both their interiors and exteriors. Modern in style, these visionary homes are built of sensuous materials, and sited to make the most of nature, views, and sunlight. The collection, shown through gorgeous color photographs and illustrations, represents the ultimate California Dream, by the architect selected to design the personal residential retreats of celebrities like Tom Hanks and Rita Wilson, Matt Damon, and Julia Louis-Dreyfus, among others.

Woven throughout the beautiful and lush images are Kirkpatrick's personal reflections on these beautiful residential projects, and the design strategies behind their creation.