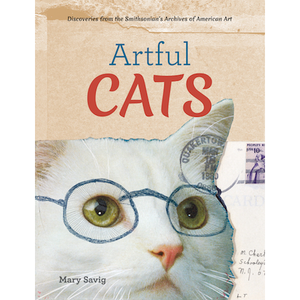 Artful Cats
Discoveries from the Smithsonian's Archives of American Art
Description
Cats, cats, and more cats! Expressive or aloof, affectionate or enigmatic, cats have complicated characters that make them compelling artists' muses. Artful Cats explores the quirky and charming relationships of artists with their cats in 130 rarely seen photos, paintings, sketches, manuscripts, and letters from the Archives of American Art. Jasper Johns, Frank Stella, Louise Nevelson, Marcel Breuer, Yves Tanguy, Georgia O'Keeffe, Edward Weston, Robert Indiana, Judy Chicago, Berenice Abbott, and Romare Bearden show off their artful cats, which appear as companions, inspirations, instigators, and often regents of the home or studio. The images, culled from the archive's extensive holdings from the nineteenth century through today, celebrate our cultural heritage through our enduring fascination, love, and bemusement with our feline familiars. A foreword by Kate Haw, director of the Archives of American Art, describes how these archival treasures provide a window on unexpected and personal details of celebrated artists' lives and work.


Editorial Reviews
Judy Chicago
I love cats. Over the course of my life, I've lived with an array of amazing, delightful, demanding and, of course—heartbreaking, when they died—felines. I'm delighted to be part of a book devoted to artists' renditions of kitties so that others can begin to appreciate their many charms.
T. Cole Rachel
At a time when feline ephemera is seemingly everywhere, Mary Savig's Artful Cats is a beautifully considered, gentle reminder of that very pure place from which so much of our cultural obsession with cats seems to spring. More than just a celebration of the feline form, this lovely book also elucidates the loving, longtime relationship between cats and creators.
Naomi Fry
This wonderful collection provides decisive proof of something I've always suspected: that behind every great artist there's a great cat.
Catstar magazine
This beautiful book by Mary Savig delves into the Smithsonian's Archives of American Art collections to explore the relationships between artists and their cats, featuring 130 rarely seen photographs, sketches, manuscripts and letters. Jasper Johns, Georgia O'Keeffe and many others are seen showing off their feline friends, who appear as companions, inspirations and often regents of the artists' homes and studios.
Artblog
Any art lover who owns a cat will enjoy this book.