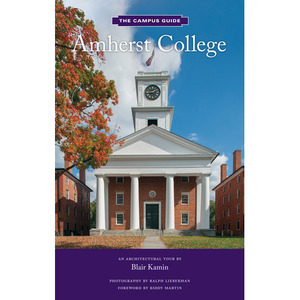 Amherst College
An Architectural Tour
Description
Amherst College: The Campus Guide is an architectural tour of one of North America's most prestigious liberal arts colleges. Founded in Western Massachusetts some two hundred years ago, the one thousand-acre campus is a living museum of architectural history, bearing the imprint of distinguished firms in architecture and landscape architecture: Frederick Law Olmsted; McKim, Mead & White; Benjamin Thompson; Edward Larrabee Barnes; Shepley Bulfinch; and Michael Van Valkenburgh. Organized as a series of six walks, the guide interweaves the history of the college with the story of the campus's development. Newly commissioned photographs and a hand drawn pocket map enhance this engaging journey through Amherst's architecture, landscape, interior design, and sculpture.


Editorial Reviews
Architects and Artisans
Blair Kamin's newest book, Amherst College: The Campus Guide, paints a telling picture of his alma mater—with the buildings that populate it...Amherst College: The Campus Guide is designed to be read at home or taken out for a stroll around campus. There are six distinct walks, a series of bird's-eye maps and a fold-out, too. The photography by Ralph Lieberman is crisp, telling and descriptive.