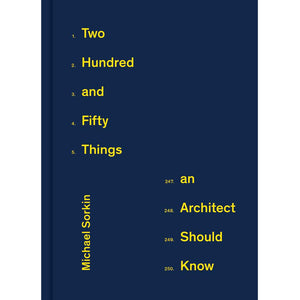 Two Hundred and Fifty Things an Architect Should Know
Description
From iconic architect and critic Michael Sorkin comes a joyful celebration of architecture and city-making, told through his famous list, in one beautiful, illustrated book.
Equal parts poetic, practical, playful, and wise, Two Hundred and Fifty Things an Architect Should Know presents a compelling and perceptive list of essential knowledge that Michael Sorkin composed during his renowned career as an architect, urbanist, critic, and force for justice and equity in design. In this first posthumous collection of Sorkin's work, entries are paired with 100 poignant and elegant color and black-and-white photographs, illustrations, and archival images. The handsome, foil-stamped cover and timeless design makes this the perfect gift for architects, students of architecture, and design-savvy urbanists.
PRAISE FOR TWO HUNDRED AND FIFTY THINGS AN ARCHITECT SHOULD KNOW...
"Sorkin's musings range from the practical, like familiarizing yourself with the color wheel, or the energy embodied in aluminum, to more existential topics, like what makes you happy. In all, the book offers a multitude of takeaways that will at the very least enrich your own creative practice, and at the very best, will bring new perspective to your life."
– Dwell
"This posthumous collection, paired with 100 photographs, illustrations, and archival images of his work, is a practical, poetic, and playful compilation of the knowledge he amassed in [Michael Sorkin's] career."

– Fast Company
"Essential knowledge for architects in this compact and charming volume."
– Architectural Record
"Filled with photographs, illustrations and archival images, the anthology imparts wisdom for architects and non-architects alike. Above all, it serves as a poignant reminder that the practice of design is as much a product of technical skill as of inherent curiosity — both an intellectual, creative pursuit and a fundamentally human experience."
– Azure Magazine (Canada)