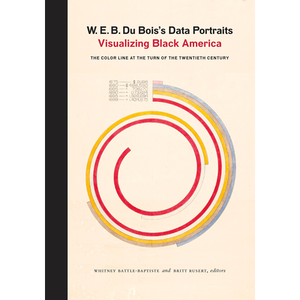 W. E. B. Du Bois's Data Portraits
Visualizing Black America
Description
"As visually arresting as it is informative."—The Boston Globe

"Du Bois's bold colors and geometric shapes were decades ahead of modernist graphic design in America."—Fast Company's Co.Design

W.E.B. Du Bois's Data Portraits is the first complete publication of W.E.B. Du Bois's groundbreaking charts, graphs, and maps presented at the 1900 Paris Exposition.

Famed sociologist, writer, and Black rights activist W.E.B. Du Bois fundamentally changed the representation of Black Americans with his exhibition of data visualizations at the 1900 Paris Exposition. Beautiful in design and powerful in content, these data portraits make visible a wide spectrum of African American culture, from advances in education to the lingering effects of slavery. They convey a literal and figurative representation of what he famously referred to as "the color line," collected here in full color for the first time.

A landmark collection for social history, graphic design, and data science.

• Data display, visualizations, and infographics far ahead of their time
• Colorful graphs and charts are mesmerizing pieces of art in their own right
• A valuable companion to W.E. B. Du Bois's The Souls of Black Folk
• Includes contributions from Aldon Morris, Silas Munro, and Mabel O. Wilson

W.E.B. Du Bois's Data Portraits is an informative and provocative history, data, and graphic design book that continues to resonate with audiences today.
PRAISE FOR W.E.B. DU BOIS'S DATA PORTRAITS...
"W.E.B. Du Bois's Data Portraits was published on the sesquicentennial year of the Du Bois' birth, and it further reaffirms the scholar's place as a founding figure in American sociology. The recirculation of Du Bois' data portraits offer a new opportunity to marvel at the forward-thinking work being done at Atlanta University."
– Smithsonian Magazine
"This fascinating reproduction of all the data visualizations prepared by Du Bois and his team for the American Negro Exhibit at the 1900 Paris Exposition is so modern as to be nearly anachronistic. The introduction is also excellent, briefly providing historical and political context to the primary source materials. These plates represent a very contemporary approach to a social problem that still looms large in our country and will interest scholars of African American studies, design, data visualization, sociology, and history. Summing Up: Highly recommended."
– Choice Magazine
"Du Bois' data visualizations convey the power of information design and "infographic activism."
– Booklist
"You can't know where you're going if you don't know where you come from. W.E.B. Du Bois's Data Portraits offers a comprehensive view of issues Black Americans have faced, from land ownership to education. These infographics were presented at the 1900 Paris Exposition. It's interesting to see how things have--or have not--changed."
– Essence
"For any young designer or graphic artist coming up, it's an inspiring account of how a blend of science and art can call attention to 'invisible struggles.' There is brilliance in truth-telling and sharing stories of real people in design which help us create a deeper sense of empathy for the humanity of others."
– Fast Company