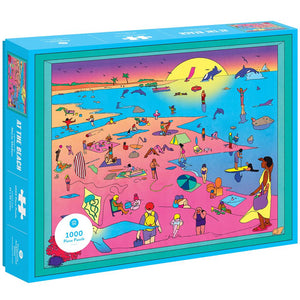 At the Beach 1000 Piece Puzzle
1000 Piece Puzzle
Description
Featuring retro, neon colors and a bright, beautiful beach image, this 1000-piece puzzle is packed with activity, sun, and fun!
This high-quality jigsaw puzzle depicts a dreamy scene of a day at the beach: sunbathers, surfers, sailors, and swimmers congregate on and around this vivid stretch of sand, each of them enjoying a different activity for you to discover as you assemble the pieces. With a bold color gradient and distinctive sunset colors, this puzzle creates varied sections that are ideal for group puzzling and family time.
The box includes 1000 high-quality puzzle pieces with minimal puzzle dust, accompanied by an artist statement from Sevilla-based illustrator María Medem. This puzzle also comes with an oversize insert that displays a large, clear rendering of the image to use as reference while you put together this 25 x 20-inch scene.