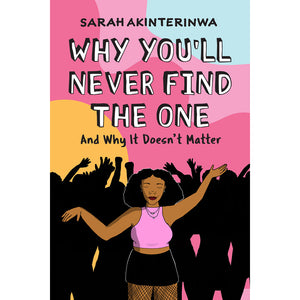 Why You'll Never Find the One
And Why It Doesn't Matter
Description
A funny and affirming illustrated guide, in New Yorker cartoonist Sarah Akinterinwa's signature style, that offers a unique approach to finding love (or not).
This illustrated dating guide by cartoonist Sarah Akinterinwa, rooted in her experiences as a Black woman in her late twenties, encourages readers to be introspective, honest, and practical in their love lives. Through vignettes with scenes from modern dating, the book's main character walks the reader through the ins and outs of being single, defining what you want in a partner, navigating dating apps, the value of therapy, contending with family expectations, and remaining optimistic about finding a relationship that's right for you.
The book includes cheeky illustrated sidebars and commentary, such as:
A recipe for the perfect partner
Updated love languages
Dating affirmations you didn't know you needed
Advice for taking yourself on solo dates
And more, all with an inclusive perspective on race, sexuality, and body image
The stories, practices, and tips in this guide offer support for the lovelorn millennial, and anyone wading through the challenges of dating and being single in today's world, leaving the reader with the recognition that there might not necessarily be "one" perfect partner or way to be in a relationship, but rather, many possibilities—in dating and in life.
PRAISE FOR WHY YOU'LL NEVER FIND THE ONE...

"Finding love gets a little easier with New Yorker cartoonist Akinterinwa's insightful and fresh guide to dating that reframes conventional ideas of romance and pairs them with heavy doses of self-love....Give it a read before swiping right."
– Publishers Weekly
"I wish I had read this book once a week in my twenties. Sarah Akinterinwa compassionately addresses so many contemporary dating pitfalls and pratfalls. And her medicine for our romantic maladies goes down easy, with the help of truly hilarious comics. All in all, much funnier (and cheaper) than a decade of therapy."
– Emma Allen, humor and cartoon editor, The New Yorker
"I love Sarah's voice―a wry wit that pairs well with a clean drawing style. In her new book, she treats us to her cartoon people and their humorous outlook on life, and in the process passes along some very sage advice about being a woman in today's world."
– Liza Donnelly, New Yorker cartoonist and writer, author of Very Funny Ladies: The New Yorker's Women Cartoonists
"Sarah is brilliant and reading her book is like being consoled by your funny, smart friend who just gets it on a deep level."
– Samantha Rothenberg (Violet Clair), illustrator
"This book is a warm hug of encouragement and understanding for anyone feeling unlucky in love. Akinterinwa's insightful and logical commentary on dating paired with her on-point cartoons creates a captivating and much-needed dating pep talk."
– Gabi Conti, author of Twenty Guys You Date in Your Twenties and creator of the podcast Am I Dating a Serial Killer?
"Sarah Akinterinwa's kind, clear-eyed book should be pressed into the hands of any young person who feels defeated by dating in our digital age."
– Blythe Roberson, author of How to Date Men When You Hate Men
"Why You'll Never Find the One is a wise, funny guidebook that will be your companion through the indignities of the dating scene―while quietly showing you the way to fall in love with yourself. Sarah Akinterinwa's insightful words and delightful drawings get to the heart of what it's like to be single and endlessly searching. They will show you that you're not alone in this journey."
– Liana Finck, New Yorker cartoonist and author of Let There Be Light