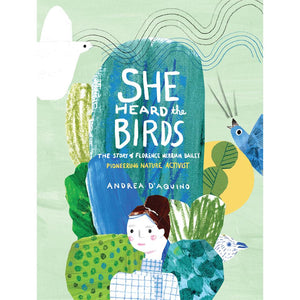 She Heard the Birds
The Story of Florence Merriam Bailey
Description
Young readers are introduced to Florence Merriam Bailey, a pioneering birder and activist who changed the way we study birds forever, as told through the evocative collage style of artist Andrea D'Aquino, in this beautifully illustrated children's book.
As a young girl, Florence Merriam Bailey fell in love with the outdoors, especially birds, whose songs and flight captivated her. She listened, waited, and watched to better understand her feathered friends, and wrote many books, including one of the first field guides to American birds. Her work ultimately led to better protection for birds and to the scientific study of birds in nature instead of in a lab. She Heard the Birds, the latest book from A Life Made by Hand: The Story of Ruth Asawa author Andrea D'Aquino, brings to life the story of a woman ahead of her time. D'Aquino's striking full-page collages make each page a delight to read.
PRAISE FOR SHE HEARD THE BIRDS...
"D'Aquino distills the life of ornithologist and activist Florence Merriam Bailey....A good introduction to an important pathfinder among women naturalists."

– Kirkus Reviews
"A beautiful and unusual introduction to a fascinating life-and an important call to action."
– Booklist
"This is a story of an ornithological hero. It's also a quieter, subtler book than we usually see about environmental activism, and I think that's a real key to its success. So many picture book bios make it seem necessary to be brash and loud to get things done. Fewer understand the power of quiet, unyielding persistence."
– School Library Journal Fuse 8 Blog
"This is a bright and accessible introduction to a woman whose quiet advocacy left a lasting impact, complete with easy suggestions for budding birders and environmentalists to follow in Bailey's observant footsteps."
– The Horn Book Guide