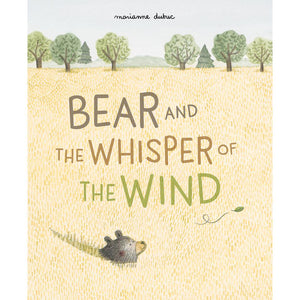 Bear and the Whisper of the Wind
Description
From the award-winning author and illustrator of Up the Mountain Path, The Fish and the Cat, and Otto & Pio comes an imaginative read-aloud picture book about one bear's journey to believe in himself and discover the beauty of change.
Bear is happy at home, eating strawberry pie and spending time with his friends. But one day, the wind whispers to Bear, calling him to embark on a surprising journey to an unknown place. He isn't sure where he is going, but he knows that everything will turn out okay if he trusts his instincts.
A sweet, delightfully illustrated tale about believing in yourself, Bear and the Whisper of the Wind shows children that change may be scary at first, but it can lead to fun, happy, and exciting things too.
PRAISE FOR BEAR AND THE WHISPER OF THE WIND...
"I love Bear's wanderlust and restlessness, his uncertainty and daring....I love that his departure doesn't have to be explained. And I love, as always, Dubuc's delicate, fine-lined illustrations in pencil, colored pencil, and watercolors."
– 7 Impossible Things Before Breakfast
"The story is compelling and will keep little listeners interested, but it is the gorgeous illustrations that are the real star of this beautiful book. Every page is filled with wonderful details of the sweet woodland. The color palette is soft and gentle. This book will be asked for over and over."
– Seattle Book Review
"Dubuc thoughtfully addresses the complexities involved in giving up the safety of the known for the unknown: it can be scary ("What if I have made a terrible mistake?") but also allows for personal growth and reward. Details in the art acknowledge the need for comfort during upheaval; some of those "treasured possessions," which remind Bear of his old friends, reappear throughout. The mainly green and brown hues of the woodland setting in Dubuc's precise pencil, colored-pencil, and watercolor illustrations reflect the naturalness of Bear's desire for change."
– The Horn Book