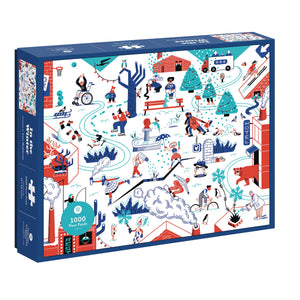 In the Winter 1000 Piece Puzzle
1000 Piece Puzzle
Description
This joyful 1000-piece puzzle captures one moment in time on one perfect winter day. Packed with a quirky cast of characters, unexpected details, and tons of cold-weather humor, this puzzle is ideal to assemble during those chilly months of the year and makes the perfect holiday gift.
As you piece together this richly layered 1000-piece puzzle, you'll rediscover charming reasons to love the wintertime. Spanish illustrator Luci Gutiérrez brings her love of funny characters and fascinating details to this classic winter scene, and each silly moment will surprise and delight you. A man rolls around inside a snowball; Christmas trees sing; a skier goes up instead of down. This whimsical depiction of outdoor winter fun celebrates all the joy of the winter season and is sure to provide hours of puzzling fun for the whole family.
This eye-catching illustrated puzzle comes with 1000 high-quality pieces and minimal puzzle dust, assembling to 25 x 20 inches. Also included is an oversize insert of the puzzle image and accompanying artist statement.