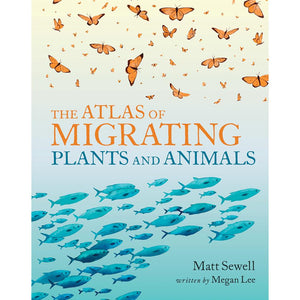 The Atlas of Migrating Plants and Animals
Description
Curious young readers will love learning about the migration patterns of plants and animals from all around the world in this colorful children's atlas, richly illustrated in Matt Sewell's signature watercolors.
Featuring mammals, birds, reptiles, fish, insects, and plants from all continents and nearly all oceans, this informative collection will teach young nature lovers about migration in its many forms. Grade-school children will discover how creatures navigate the planet when they encounter climate change, sun, chemicals, the Earth's magnetic field, and the changing seasons in this illustrated reference book.
Follow flocks of arctic terns on their annual 24,855-mile journey between the Earth's poles. Join the monarch butterflies on their famous pilgrimage, upwards of 3,000 miles, from Canada to Mexico. Marvel at wildebeests, humpback whales, salmon, dragonflies, and more, as they travel around the globe and battle the Earth's toughest conditions to survive.