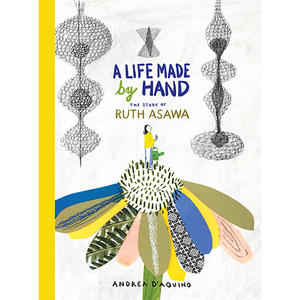 A Life Made by Hand
The Story of Ruth Asawa
Description
"I was struck by how beautifully D'Aquino's renderings capture the spirit of Asawa's work." —The New York Times Book Review
"Through this picture-book contribution, not only will Asawa's art reach a new audience, but her artistic practice will inspire the next generation of creative minds to express themselves with handmade art. A worthwhile addition to picture-book collections everywhere." —Booklist
Ruth Asawa (1926-2013) was an influential and award-winning Japanese American sculptor and devoted activist who advocated tirelessly for arts education. A Life Made by Hand tells the story of this pioneering artist whose work is collected in major museums around the world.
Inspired by the world around her, Asawa saw beauty in the ordinary: the webs of spiders, wings of insects, and drops of water found in the garden on the farm where she spent her childhood. She studied at the historic Black Mountain College, an unusual school filled with brilliant thinkers like herself. "An artist," she said, "is an ordinary person who can take ordinary things and make them special."
Andrea D'Aquino's lush collages and engaging text celebrate Asawa's remarkable career, and collectively tell a story that will appeal to young readers and art lovers, and inspire them to, as Ruth Asawa did, look closely at the world and create art with whatever is at hand. 
Includes an activity for making a paper dragonfly and a page of teaching tools for parents and educators.
Editorial Reviews
Kirkus Reviews
Charcoal-and-colored-pencil drawings combine with hand-painted and monoprinted paper in a striking collage representation of Asawa's work. D'Aquino provides close-ups of the snail and dragonfly, a landscape layout of basket craftsmen, and a geometric kaleidoscope of squares layered upon squares, offering a variety of perspectives and media. An author's note explains her inspiration for the book and offers sobering facts about the Asawa family's internment in various camps. Additional resources enable young artists to discover this artist's work for themselves and offer step-by-step instructions to create a folded paper dragonfly. This distinctive biography brims with artistic vision as it informs about a signature sculptor.
Publishers Weekly
This introduction to the life of the Japanese-American artist Ruth Asawa (1926-2013) follows her early life growing up on a farm, her time at the legendary Black Mountain College, and the trip to Mexico where she learned to weave with wire. Colorful textural collage illustrations convey the way her creative practice was informed by the world around her. Instructions for a paper dragonfly close the book, encouraging readers to emulate this teacher, who 'knew that the best way to learn is to use your hands.'
Avery & Augustine
Author and illustrator Andrea D'Aquino's thoughtful words and art pay homage to Ruth Asawa's work and deftly capture its extraordinary spirit. One of our favorite books published this year.
Booklist
D'Aquino showcases how Asawa's curiosity and handiwork, set amidst charcoal and colored-pencil drawings and mixed-paper collages, carried her into adulthood, where her creative talent began to receive praise and attention. Through this picture-book contribution, not only will Asawa's art reach a new audience, but her artistic practice will inspire the next generation of creative minds to express themselves with handmade art. A worthwhile addition to picture-book collections everywhere.
The New York Times Book Review
Andrea D'Aquino introduces us to Asawa as a little girl who spends her time looking closely at the world and making things with whatever was at hand. 'What a fascinating shape your shell is, Snail,' she has Ruth say. D'Aquino nicely connects the imaginative life of the child with the professional artist she became. This is reinforced in the illustrations, which are a playful combination of pencil drawings and collage with a loose and spontaneous feel. I first saw Asawa's luminous wire sculptures a few years ago, and I was struck by how beautifully D'Aquino's renderings capture the spirit of Asawa's work.
GeekDad
I admit that I hadn't heard of Ruth Asawa before reading this picture book—which is kind of why books like this are so important. It's a lovely book.
The Horn Book Magazine
D'Aquino offers young readers 'the story of an artist you may have never heard of': Ruth Asawa (1926-2013), a Japanese American creator of nature-inspired wire sculptures. A third-person text effectively uses occasional imagined quotations from young Ruth to convey the sense of curiosity and wonder at the natural world that would later define this artist. Throughout the narrative, there's also an emphasis on the handmade—from a childhood spent on a farm to her studies at Black Mountain College to learning basket-weaving from a local craftsperson in Mexico, which would inspire her woven-wire sculptures. The book's illustrations, too, evoke the handmade; charcoal and colored-pencil drawings are combined with hand-painted and monoprinted paper in distinctive, naive-style collages.
School Library Journal
D'Aquino's illustrations utilize charcoal, colored pencil, and collage with beautiful muted colors and whimsical designs. D'Aquino also includes illustrated instructions on how to create a paper dragonfly, a great activity for storytime.
San Francisco Chronicle
At once whimsical and subdued, charcoal, colored pencil, and collage art captures the wonder of her innovative wire sculptures.
Mondobello Magazine (Spain)
The day that illustrator Andrea d'Aquino ran into one of Ruth Asawa's sculptures, she was so fascinated by her that she could not help further investigating the artist who created them. She felt so identified with her approach to art from observation and admiration for nature and artisanal work, that she wanted to share it with the rest of the world through a beautiful illustrated book.