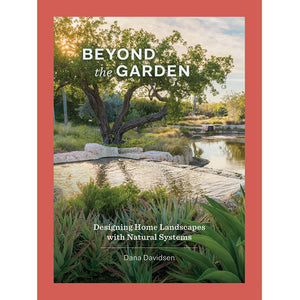 Beyond the Garden
Designing Home Landscapes with Natural Systems
Description
This ideal gift for gardeners features a photographic collection of beautiful, innovative, ecologically friendly gardens that will inspire and inform anyone with a green thumb, from backyard gardeners to accomplished landscape architects.
Through eighteen distinctive projects set across urban, suburban, and rural spaces, Beyond the Garden explores how thoughtful design and awareness of local ecology can make gardens both beautiful and sustainable. Featuring interviews with designers in the United States and the United Kingdom, this survey presents the stories and lessons behind inspirational garden projects, including stormwater conservation in the high desert of New Mexico, native woodlands restoration in coastal Maine, and land stewardship in England's Hampshire county, this comprehensive survey of eco-conscious garden designs offers guiding principles to make your landscape "greener" and will spark curiosity about the natural systems just outside your front door.
PRAISE FOR BEYOND THE GARDEN...
"[A] rewarding 'glimpse into the creativity of some of today's most artful and innovative landscape designers.'...The most fascinating part of the book is seeing methods at work in so many different ecosystems. Armchair gardeners will eat this up."
– Publishers Weekly
"This book is an inspiration from innovative designers who focus on restoration of the land, conservation, and rewilding the landscape with use of native plants and green roofs."
– Library Journal