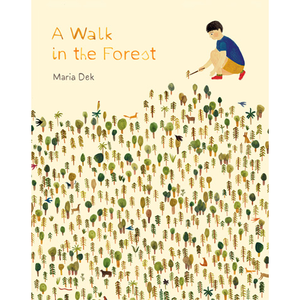 Description
"…an urgent entreaty for young people to immerse themselves in the outdoors." —STARRED Kirkus Reviews
Discover the forest in all its mysterious glory with this book." —Learning Magazine
A charming illustrated picture book that invites young readers to discover the woods as a place for both imaginative play and contemplation
The forest comes alive in all its mysterious glory with Maria Dek's charming watercolor images and poetic text in In the Forest. With the turn of each serenely illustrated page, young readers will follow along to collect pinecones, feathers, or stones; follow the tracks of a deer; or listen to the chirping of birds and the whisper of trees. Build a shelter and play hide-and-seek. Pretend the woods are a jungle, or shout out loud to stir up the birds.
This nature themed picture book for kids will invite them on an armchair walk of discovery through the woods, showing them that in the forest, wonders await.
Editorial Reviews
Publishers Weekly
Dek's invitation to explore the forest's magic and to leave behind civilization, vehicles, technology—even other people—feels honest and strikingly personal. Her story itself is a journey.
Learning magazine
Revel in the woods as a magical place for play and exploration. Discover the forest in all its mysterious glory with this book.
The New York Times Book Review
The sensory pleasures of the woods are on display in A Walk in the Forest, a quietly beautiful book written and illustrated by Maria Dek.