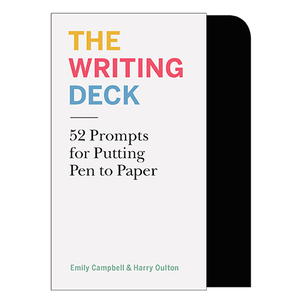 The Writing Deck
52 Prompts for Putting Pen to Paper
Description
Jump-start writing projects with this colorful card deck of engaging prompts. Whether retelling a familiar story from a different perspective, describing a scene without using adjectives, or writing a story in the style of Jane Austen, these exercises break down the process of writing into small, doable activities that are sometimes playful, sometimes challenging, but always enlightening. Color-coded by level of difficulty, The Writing Deck is an eminently useful tool for educators, workshops, and practitioners of all levels.


Editorial Reviews
Kurt Andersen, Public Radio host and bestselling author
Whenever would-be writers ask for advice, I've had nothing specific to offer beyond 'Read a lot' and 'Write a lot.' Now, thank goodness, I can suggest they immediately get a copy of The Writing Deck.
Learning Magazine
This card deck has 52 writing challenges at different levels to spur creativity and combat writer's block.
Writer's Digest
The cards are color coded in increasing levels of difficulty but even better, they start with a general prompt on the front and then have variations and ways to take the prompt even further on the back.