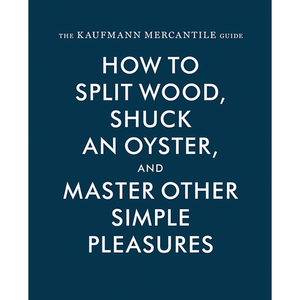 The Kaufmann Mercantile Guide
How to Split Wood, Shuck an Oyster, and Master Other Simple Pleasures
Description
A visual field guide to what we ought to know how to do, and what we'd like to learn how to do, from beloved craftsmanship-focused online shop Kaufmann Mercantile.
Kaufmann Mercantile thoughtfully curates and sells timeless products for slow living, with a focus on functionality, quality, and craftsmanship. Building off of that philosophy, The Kaufmann Mercantile Guide is an everyday, accessible reference book for the utilitarian in all of us. 
In this comprehensive field guide to life, editors Alexandra Redgrave and Jessica Hundley share Kaufman Mercantile's collective expertise on 48 helpful life skills that range from what we ought to know how to do, from frying an egg to tying a tie to brewing coffee, or that we'd like to learn how to do, like splitting wood, building a fire, growing our own food, or shucking an oyster.
Organized into five instructional sections (Kitchen, Outdoors, Home, Garden, and Grooming), each section is prefaced by an expert and includes original artwork to visually walk you through each "how to" step. Supplemental sidebars feature the best tool for the job, whether it's a dibber for planting, the best rawhide-and-ash snowshoes, or flammable smoking bags for making authentic BBQ.
This guide book is a well-considered collection of how-tos, perfect for anyone who wants to live a slow and thoughtful life, or a gift for someone who does.
Editorial Reviews
The New York Times
Forty-eight how-tos that reflect Kaufmann Mercantile's larger philosophy about life. Included are instructions for starting a campfire, repairing a bicycle tire flat, building a lean-to shelter, sewing a button and sabering a bottle of Champagne, along with suggested tools for the jobs.
Real Simple

By the purveyors of the masterfully curated online store with the same name, their first endeavor in print is a huge success.
Sports Illustrated

This book will empower anyone to take on a do-it-yourself project, as it includes step-by-step guide on everything from cleaning cast iron pans to brewing the perfect cup of coffee to repairing a flat bicycle tire. There are how-to's for kitchen, outdoor, home, gardening, and grooming projects and tasks, meaning your recipient will feel grateful for your gift the next time a dilemma strikes.