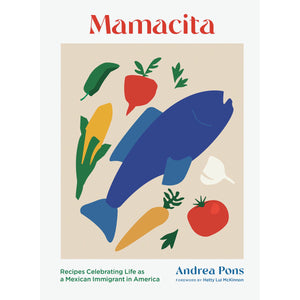 Mamacita
Recipes Celebrating Life as a Mexican Immigrant in America
Description
In this inspiring and creative Mexican cookbook, Andrea Pons takes you on a journey through flavor, family, and her immigration story. With 78 easy and delicious recipes from three generations of women in her family, this cookbook offers you a taste of authentic Mexican cuisine.
Mamacita began as a celebration of the authentic Mexican recipes Andrea Pons loved growing up, but it quickly became a way for her to return to her roots and reconnect with her Mexican heritage. In her journey through food, she shares not only her experiences with cooking but also her family's immigration story.
When Pons was faced with the possibility of deportation, and she and her family struggled to navigate the US immigration system—in the country that had been their home for 16 years— she looked to these recipes for help. To fund her family's significant legal fees, she sold self-published copies of Mamacita, and the cookbook became both a symbol of their journey and a rallying cry.
This new edition of Mamacita offers 30 more photos and 11 additional recipes, allowing you to taste even more of the love in Pons's dishes.
Foreword by James Beard Award nominee Hetty Lui McKinnon
PRAISE FOR MAMACITA...
"Andrea's story is a modern tale of family, immigration, endurance, and how our roots and our cooking heritage ground us through times of adversity and uncertainty. The recipes are delicious and showcase Mexico's broad and rich cuisine."
– Aran Goyoaga, James Beard Award Finalist and author of Cannelle et Vanille and Cannelle et Vanille Bakes Simple
"Mamacita captures Andrea's passion for her culture and brings a beautiful perspective to life as an immigrant in America. This book is a must-have for anyone who is looking for more than just recipes-this is a wealth of inspiring stories that will teach you so much more."
– Melissa Miranda, chef and founder, Musang restaurant, Seattle
"Mamacita will draw you in and inspire you to celebrate the vast breadth of Mexican home cooking. Not only is Andrea an amazing cook, her mission of using this book as a vehicle to support her family and other immigrant families is beyond words. You will never look at the Mexican kitchen the same again!"
–  Joel Gamoran, chef, television host, and author of Cooking Scrappy
"Pons's cookbook includes dishes to fill the whole day, stretching from long mornings into late night snacks. It includes Mexican cuisine staples alongside fresh modern plates. Both are garnished with fascinating stories about their cultural and family roots."
– Foreword Reviews
"With a solid variety of nostalgic Mexican staples, Pons offers an accessible introduction to traditional Mexican dishes that are sure to please...The book is designed with both cooking and reading in mind, and each easy-to-follow recipe is accompanied by a preface that provides context and hints. Try the molletes." 
– Library Journal (Best Books of 2022)