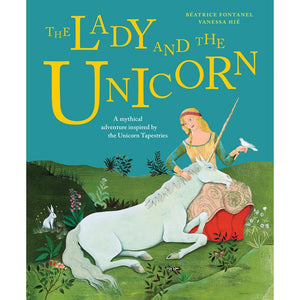 Description
Gallop into the mythical world of this beautifully illustrated and educational picture book adventure about love, magic, and art history, inspired by the Unicorn Tapestries held by the Metropolitan Museum of Art in New York and Cluny Museum in Paris.
The Lady and the Unicorn invites young readers into an enchanting tale of a unicorn who must outsmart a lord and his huntsmen. When the unicorn finds his way into a secret garden in the forest, he discovers a young lady who just may have powers more magical than his own.
Children will be drawn in by the vibrant illustrations and captivated by the detailed scenes of the unicorn and his forest friends and foes. Parents will love how the book connects the illustrations to the symbols and meanings of the original Unicorn Tapestries, which were created in the Middle Ages. Kids and adults alike are sure to return to this beautifully illustrated and engaging story again and again.
PRAISE FOR THE LADY AND THE UNICORN... 
"A lovely fairy tale for both young and older readers that calls to art history and the power of a well done tapestry."
— YA  and Kids' Book Central
"This rendition of The Lady and the Unicorn is alive and relatable, reaching out to us from 500 years ago, and the reader will want to know more, they will want the story to continue, they will want to maintain a connection."
— New York Journal of Books