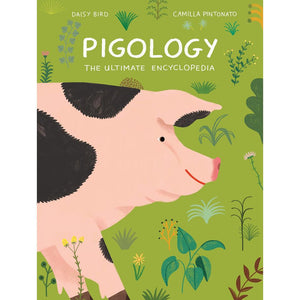 Pigology
The Ultimate Encyclopedia
Description
Welcome to the wonderful world of pigs! Pigology is filled with incredible pig facts told in a playful tone by Daisy Bird, with irresistibly charming illustrations by rising star Camilla Pintonato.
Pigs are full of unexpected surprises. Did you know that when a pig is happy, it will uncoil its curly tail and wag it just like a dog? Or that feral hogs can detect odors from seven miles away? Pigology delves into the history of pigs, pig breeds around the world, famous pigs, pigs in culture, and so much more, with engaging scenes from illustrator Camilla Pintonato.
This lively visual encyclopedia, a follow-up to Chickenology, offers something to discover for everyone young and old: nature- and animal-loving young readers, pig enthusiasts, pig farmers, and pet pig owners alike! 
Click here to learn more about Pigology, order a copy from your favorite bookseller, and download a free poster of 29 different and delightful pig breeds. 
PRAISE FOR PIGOLOGY...
"Pigology, Chickenology, and Sheepology are my absolute favorite books about farm animals. They explain history and science with ease and charm. These books help us to see that reality transcends fiction, and that once we understand it, our sense of wonder deepens, making the world more enjoyable and more magical." 
– Isabella Rossellini
"Aspirationally encyclopedic, this survey covers the pig's evolution, domestication, characteristics, adaptations, importance as a global food source, appearances in myth, and more….An interesting, absorbing browser."
– Kirkus Reviews