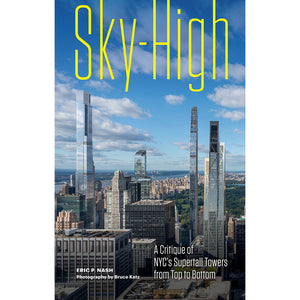 Sky-High
A Critique of NYC's Supertall Towers from Top to Bottom
Description
Part architectural guidebook and part critique, Sky-High documents the pencil-thin, supertall towers that are transforming New York City's skyline as well as its streets.
New York City's penchant for building skyward has reached new heights with its crop of supertall towers—those that rise at least 984 feet above the sidewalk. The city that never sleeps is also the city that never stops building ever higher, from the Woolworth and Chrysler buildings of an earlier race to the top to today's super luxury aeries of 57th Street's Billionaires' Row and the towers of the World Trade complex in Lower Manhattan.
Bruce Katz's extraordinary photographs capture a dozen of these self-styled odes to wealth and power, alongside Eric P. Nash's incisive critique documenting the evolution of the skyline, past and present, and the supertalls' transformative effects on the contemporary cityscape. Among the twelve buildings featured are One World Trade Center, Three World Trade Center, 30 Hudson Yards, 35 Hudson Yards, One57, 432 Park Avenue, 53West53, Central Park Tower, and One Vanderbilt.