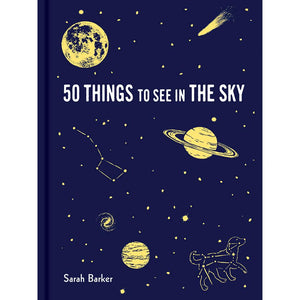 50 Things to See in the Sky
Description
This hip and handy guide helps you learn the science behind blue skies, sun dogs, and the solar eclipse, and shows you how to observe nocturnal wonders such as lunar halos, Martian ice caps, and far-off galaxies. Fifty celestial phenomena come to life with expert tips from astrophysicist Sarah Barker and stylish illustrations by Maria Nilsson. Any explorer can become an adept observer with their guidance, and more ambitious stargazers will be able to discover more distant sights with the help of binoculars, a telescope, or a local astronomy group. With a glow-in-the-dark cover, 50 Things to See in the Sky is a perfect complement to your next camping expedition and a wonderful gift for anyone who marvels at what lies in our celestial sphere.

Editorial Reviews
Arts & Activities Magazine
Parents, primary-school teachers, and other caregivers could inspire future astronauts, rocket scientists, and meteorologists with this book. As entertaining as it is informative, this book provides writing practice. Gravity, comets, constellations, and asteroids are only a few of the subjects covered. There's no dearth of facts in the book about each planet in our solar system. Stimulating and exciting.
Foreward Reviews
[Astrophysicist and television producer Sarah Barker] shares her enthusiasm in 50 Things to See in the Sky, a richly illustrated, layperson-friendly guide to everything from constellations to quasars and how to find them. Step-by-step instructions and helpful diagrams ensure that beginners won't get overwhelmed... Maria Nilsson's whimsical and accurate drawings enhance the book's tasteful blue-and-white color scheme, while a glossary and a closing section on resources such as star map apps guarantee that readers will soon be looking to the skies for themselves.
Scientific American
In this stargazer's guide (with a glow-in-the-dark cover), astrophysicist Barker gives tips for finding celestial phenomena with or without a telescope. She shares practical tips and tricks to navigate the boundless sky, such as how to identify the constellation Orion, spot the red supergiant star Betelgeuse and even locate the Apollo 11 moon landing site. The amusing illustrations and maps come in handy to identify the right time and place for observing. Although only 50 sights are highlighted, there is much more to explore out there. As Barker writes, 'the sky isn't the limit—the sky has no limit.'
School Library Journal
This global introduction to the night sky includes wonders that can be viewed only from the Southern or Northern hemispheres, as well as objects that can be seen from anywhere depending on the time of the year. The blue-and-white illustrations provide a clear picture of what the viewer is looking for; the many references to free apps and websites can further inspire astronomical exploration.