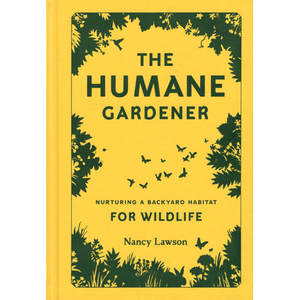 The Humane Gardener
Nurturing a Backyard Habitat for Wildlife
Description
A philosophical and practical guide for the gardener who hopes to wants to create a backyard garden in harmony with nature.

Why and how to welcome wildlife to our backyards. An eloquent plea for compassion and respect for all species, journalist and gardener Nancy Lawson uses engaging anecdotes and inspired advice, profiles of home gardeners throughout the United States, and interviews with scientists and horticulturalists to demonstrate how we can apply the broader lessons of ecology to our own outdoor spaces.

A book for gardens of all shapes, sizes, and budgets. Includes detailed chapters that address planting for wildlife by choosing native species; providing habitats that shelter baby animals, as well as birds, bees, and butterflies; creating safe zones in the garden; cohabiting with creatures often regarded as pests; letting nature be your garden designer; and encouraging natural processes and evolution in the garden.

Includes a Getting Started section complete with general information, suggested further reading for specific regions, native plant information and regional databases, and native plant retail sources and suppliers.

Who is the humane gardener? The humane gardener practices compassionate landscaping. They attract wildlife and peacefully resolve conflicts with all the creatures that may inhabit their garden. They see the garden as a meeting place for all creatures, not a territory to be defended.


Editorial Reviews
The Plain Dealer
[W]e give Lawson a lot of credit for writing a very important book that everyone with a container gardener to a postage stamp yard to a large piece of property should read. Lawson's passionate plea to be humane includes practical and low cost solutions to enable us to cohabitate peacefully with wildlife in our yards.
O: The Oprah Magazine
Each year opossums, often seen as nasty nuisances, helpfully ingest thousands of disease causing ticks. That's just on of the good-to-know facts in Nancy Lawson's book, The Humane Gardener, which rreveals how you can make your private green patch a safe haven for all creatures.
BookPage
In The Humane Gardener, Lawson does the important work of speaking for the trees and the bees, butterflies and other living creatures that need healthy ecosystems. It's telling that Lawson opts to use gendered pronouns when referencing animals: Her goal is to show us the wisdom of living in harmony with, and dissolving boundaries between, our habitations and the diverse wildlife that surrounds us. With luxe, matte pages and plentiful full-color photographs, this book is as much a beautiful object as a passionate and well-researched rallying cry.
Library Journal, Starred review
This gorgeously written, well-argued title will help backyard gardeners see all creatures, from insects to elk, as visitors to be welcomed rather than pests to be removed. Highly recommended for gardeners at all levels in all regions.
Fresno Bee
With this guidebook in hand, learn how to landscape in harmony with nature---and how to attract and keep different, beneficial species in your outdoor spaces.
Eco-Lit Books
What in the world could be inhumane about gardening? Plenty, it turns out, thanks to this beautifully produced and incredibly important book by Nancy Lawson: The Humane Gardener: Nurturing a Backyard Habitat for Wildlife. The Humane Gardener makes a persuasive case for rethinking conventional knowledge about what a garden or yard should look like and how we should care for it.... I highly recommend this book to any and all gardeners. It might challenge your assumptions about what constitutes a 'pest,' but what is gardening without challenges.