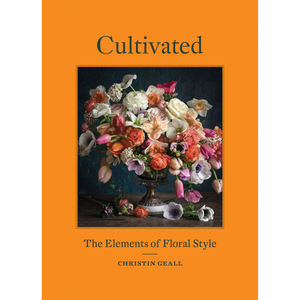 Cultivated
The Elements of Floral Style
Description
Elevate your floral design to fine art in this richly informative work on the principles of floral style.
As charming and intelligent mentor, floral designer, photographer, and teacher Christin Geall emboldens designers, gardeners, and entrepreneurs to think differently and deeply about their work with flowers and floral design, as she draws upon the fine arts and historical sources--whether exploring Baroque music, the paintings of the Impressionists, or the work of floral innovators like Gertrude Jekyll and Constance Spry.
Covering all aspects of floral design, including choosing plants to grow and arrange, selecting tools and vessels, balancing color and form, and even photographing and selling arrangements, Cultivated offers universal lessons for all levels of practitioners, budgets, and materials. Geall's stunning photographs of her own lush designs illustrate techniques for creating brilliant arrangements that spark the imagination.

Also available from Christin Geall: Cultivated Notecards and Cultivated 1000 Piece Puzzle

Editorial Reviews
Erin Benzakein, author of Floret Farm's Cut Flower Garden
Christin Geall is the rare talent who has the eye of an artist, the pen of a poet, and the heart of a gardener. Cultivated brilliantly pairs Christin's honest, thought-provoking essays with breathtaking photographs of her exquisite floral designs. Drawing from history, art, theater, literature, and her own fascinating flower journey, she boils down otherwise intimidating design concepts and explains them in a way that is both informative and inspiring.
Molly Peacock, author of The Paper Garden: An Artist Begins Her Life's Work at 72
Sumptuous, smart and illuminating, Cultivated: The Elements of Floral Style is at once floragorgeous and florapractical. Gardener, photographer and Kew-trained designer Christin Geall, florist-in-residence at estates from Cambo in Scotland to the venerable Chatsworth, has reinvented cut flower arrangements for the twenty-first century---and now she gives us lessons. Her sassy reflections, on topics from deep ecology to painting with flowers, are beautifully organized, richly informative, and fun---as Instagram followers of her sublime photographs already know. If botanical collage artist Mrs. Delany returned to earth craving just one book, I'd give her Cultivated: The Elements of Floral Style.
Sophie Conran, designer and creator of sophieconran.com
What a delight, not only a jaw-droppingly beautiful feast for the eyes, but filled with practical advice, charming anecdotes, and reaffirming life lessons. This is a book to be cherished.
Sarah Raven, flower grower and award-winning writer
I love this book celebrating garden-grown, imperfect, shapely flowers in glorious, dynamic, fecund vases in the Dutch still life painting style. There are elm flowers here, banksia rose twirls, plums on the branch, coppery bracken fronds---a harvest of beautiful things, overlaying an impressive depth of research and authoritative advice on all the practical skills to know to become a good flower arranger.
Business of Home
In her verdant book, designer, writer and photographer Christin Geall speaks to the art of floral arranging--touching on everything from how floral color enhances a room to which flowers evoke a sense of place. Page after page of dramatic photographs are interwoven with insightful design principles drawn from international floral traditions, including expositions on embracing wabi-sabi, the Japanese appreciation of beauty in imperfection, and how to harness the fact that Western culture has conditioned people to read from left to right for maximum visual impact. Beyond the breathtaking photos are words both personal and pragmatic.