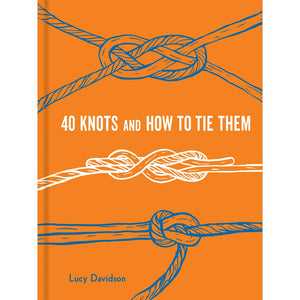 40 Knots and How to Tie Them
Description
Knowing which knot to use when and how to tie it can mean the difference between safety and danger or a dry or wet night camping. A well-tied knot is not only a safeguard, but also a thing of beauty. 40 Knots and How to Tie Them presents the essential knots, from classic sturdy, strong knots—including Bowline, Sheepshank, Pile Hitch, and Truckers Dolly—to the decorative. Instructions on tying each knot are shown in crystal-clear, hand-drawn diagrams, and its uses plainly explained. A perfect gift for the novice or the seasoned expert, each chapter contains a project to practice knots, including a bracelet, coaster, woven mat, and hammock.


PRAISE FOR 40 KNOTS AND HOW TO TIE THEM...
"Lucy Davidson takes us on a surprisingly useful and informative tour through the world of knot-tying...The book is beautifully illustrated with simple line drawings to help even the most clumsy camper, climber or sailor to master any number of handy knots"
— THE WALL STREET JOURNAL
"40 Knots and How to Tie Them is a brilliant combination of impressive craftsmanship and clever designs, making it perfect for creative adventurers."
— GRIT ONLINE
"Lucy Davidson explains, in straightforward fashion with easy-to-understand illustrations, knots most everyone should know - anglers especially. Among these are the blood knot, the perfection loop and the dry fly knot. The 37 other knots in Davidson's book will come in handy, too."
— MINNEAPOLIS STAR-TRIBUNE
"A beautiful and practical tool for the outdoor adventurer and home crafter alike, knots come in handy in just about every situation...Combining cool craftsmanship and savvy design, this book is the perfect gift for any creative adventurer."
— THE BACKWOODSMAN