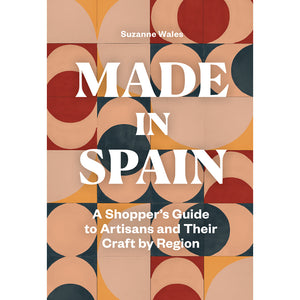 Made in Spain
A Shopper's Guide to Artisans and Their Crafts by Region
Description
A distinctive, sumptuous, and informative guide to the craftspeople and artisans of Spain, with a focus on ceramics, jewelry, leather goods, clothing, textiles, and shoes.
A celebration of artisanal craft, Made in Spain pulls back the veil on independent craftspeople and handmade artisans throughout Spain. From jewelers to furniture makers, textiles to footwear, this unique guide takes us on a bountiful journey, exploring each craft and maker in depth.
Turn these gorgeous pages to learn more about some of Spain's well-known and hidden-gem art and artisans, including:
Dazzling Huguet tiles handmade since 1933
Fashion designer and multi-disciplinary textile artist Adriana Meunié
Capas Sese–a, designer of high-fashion capes for women and men
Carmina Shoemakers, family manufacturers on the island of Mallorca since 1866
Helena Rohner's handmade jewelry inspired by nature
José Ramírez, carrying on the tradition of handcrafted classical and flamenco guitars through five generations
Part art guide, part travelogue, each chapter includes lush color photographs that explore each featured artisan from various regions of Spain, including Barcelona and Catalunya, Balearic Island, Valencia, Madrid, the Basque region, Galicia, and Andalucía.