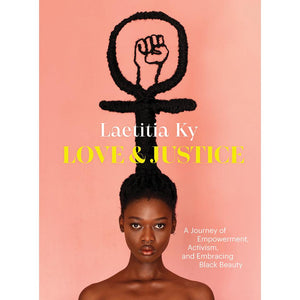 Love and Justice
A Journey of Empowerment, Activism, and Embracing Black Beauty
Description
The deeply personal story of artist, activist, and influencer Laetitia Ky, told through the powerful sculptures she creates with her own hair that embrace Black culture and beauty, the fight for social justice, and the journey toward self-love.

Laetitia Ky is a one-of-a-kind artist, activist, and creative voice based in Ivory Coast, West Africa. With the help of extensions, wool, wire, and thread, Ky sculpts her hair into unique and compelling art pieces that shine a light on, and ignite conversation around, social justice. Her bold and intimate storytelling, which she openly shares with her extensive social media audience, covers issues like:

• Sexism and internalized misogyny
• Racial oppression
• Reproductive rights and consent
• Harmful beauty standards
• Shame and its corrosive effect on mental health
• And more

Love and Justice is equal parts memoir, artwork, and feminist manifesto. Ky's striking words, combined with 135 remarkable photographs, offer empowerment and inspiration. She emerges from her exploration of justice and equality with a message of self-love, showing readers the path to loving themselves and their bodies, expressing their voices, and feeling more confident.

Through this celebration of women's empowerment, Ky extends a generous invitation to love ourselves, embrace our unique beauty, and to work toward a more just world.
PRAISE FOR LOVE AND JUSTICE...
"There is no subject that Laetitia Ky can't address in her art with openness and insightfulness. What she creates with her hair and body brings beauty to the universal freights that plague women of color. I found it impossible not to fall for her striking beauty along with her gorgeous heart." 
— GABOUREY SIDIBE, Oscar-nominated actress and author of This is Just My Face

"After following Laetitia Ky on Instagram for many years, it is thrilling to be able to see her photographs in print. It's even more satisfying to learn about her point of view through the personal stories and political beliefs that inspire her at times playful and poignant images. Ky's work is moving and bold." 
— EMILY RATAJKOWSKI, actress, model, and New York Times bestselling author of My Body
 "...a stunning collection of urgent, intimate essays paired with powerful, annotated photos of Ky wearing her hair sculptures, often in lush outdoor Ivorian settings. Seamlessly marrying style and substance, the sculptures and essays reveal the author's journey of self-acceptance, raise awareness of a wide range of social issues, and celebrate African aesthetic and spiritual traditions...Come for the beautiful art as activism, stay for the deeply personal memoir and rich cultural history."
— Kirkus Reviews (starred review)
"This is a fantastic book that is half personal essay and half photography...Laetitia Ky's hair sculptures and modeling is absolutely magnificent....I think this would be a lovely book to keep on your coffee table. Four stars."
— Latitude's Library Blog