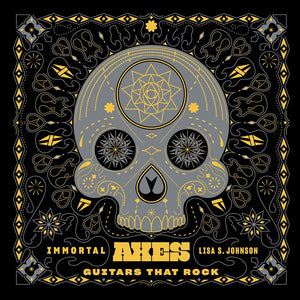 Immortal Axes
Guitars That Rock
Description
"What a beautiful book...a great presentation and wonderful insight into these historic guitars."—Nils Lofgren on 108 Rock Star Guitars
Foreword by Peter Frampton
Afterword by Suzi Quatro
From the photographer of the critically acclaimed 108 Rock Star Guitars comes a new collection of beautifully shot guitar photos, documenting the legendary instruments of B.B. King, Kurt Cobain, St. Vincent, the Beatles, Jimi Hendrix, and more than one hundred and fifty icons of rock.
Armed with a macro lens, an incredible eye for detail, and a truly inspiring vision, Lisa S. Johnson is taking the world of fine art photography on a rock and roll ride. Johnson's work conjures the abstract yet possesses a sensual and ethereal aura, illustrating the intimate wear of each instrument featured.
Johnson's debut book, 108 Rock Star Guitars, received rave reviews, and in Immortal Axes, she raises the bar even further, capturing the imagination of music fans everywhere. Each intimate photograph is accompanied by a touch of musical history or an anecdote or personal storytelling moment. This stunning book is a must-have for guitar lovers and every reader who wants to know more about their favorite guitarists and the instruments they cherish.
Additional artists include: B.B. King, Metallica, Black Sabbath, Jimmy Page, Tom Petty, Lita Ford, Susanna Hoffs, Eric Clapton, Keith Richards, Dave Grohl, Nancy Wilson, and Michael Anthony, to name a few.
Click here to learn more or order a copy from your favorite bookseller.