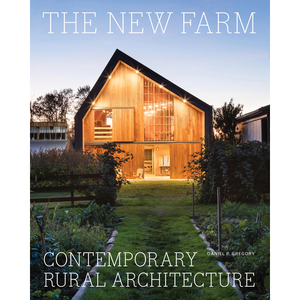 The New Farm
Contemporary Rural Architecture
Description
Recent generations of farmers have reinvented the family farm and its traditions, embracing organic practices and sustainability and, along with them, a bold new use of modern architecture. The New Farm profiles sixteen contemporary farms around the globe, accompanied by plans and colorful images that highlight the connections among family, food, design, terrain, and heritage.
Visit a Tasmanian sheep shearers' quarters with a dramatic coastal view and a bamboo-wrapped farm shed in Kentucky. Learn from a fourth-generation poultry breeder and newcomers who have stepped off the corporate ladder and into the barnyard. Projects include an olive oil grove and mill in California, the storied Stone Barns Center in New York, and organic farms in Canada and across Europe. An introduction places the design of these farms in a lineage of celebrated architects including William Wurster, William Turnbull, Edward Larrabee Barnes, Marc Appleton, and Tom Kundig.


Editorial Reviews
Architectural Digest
In The New Farm: Contemporary Rural Architecture, author Daniel P. Gregory explores how firms have taken a bolder approach to agricultural design with striking exteriors, grand interiors, and inventive materials. Gregory showcases 16 farms around the world, from a cathedral-like dairy farm in New York state to sleek stables in New South Wales, Australia. Each of the family businesses offers a new take on farming traditions with an eye to sustainability and beautiful design.