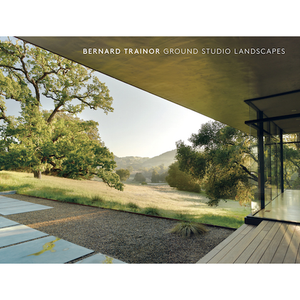 Bernard Trainor
Ground Studio Landscapes
Description
Bernard Trainor's newest book celebrates the wild and elemental landscapes of California, from the craggy coasts of Big Sur to the fertile hills of Sonoma wine country. His award-winning work combines an awareness of regional context with materials, collaboration, and deep connection to the land. Beautifully photographed and documented with full color plans, the projects in this survey of his recent work include a range of scale, from compact urban gardens to expansive rural sites. Trainor's regional, sustainable approach inspires wonder and respect for nature as it aims to preserve and restore it.


Editorial Reviews
A Daily Dose of Architecture Books
There's something to like in every project, and with colored plans, short descriptions, and plenty of photographs, there's plenty for both architects and landscape architects to enjoy. Landscape architects in particular should appreciate the project details at the back of the book, where Trainor generously lists the hardscape and plant materials used on each project.
Santa Cruz Sentinel
The book presents 12 design projects, each with an eloquent narrative description, a plot plan, several photographs, and a page (in the back of the book) of the project's details, including a plant list...providing satisfying detail for interested readers....Bernard Trainor's work could inspire a gardener to explore new ways to link the landscape to the residence, and changes that invite the rewards of spending more time in the garden.