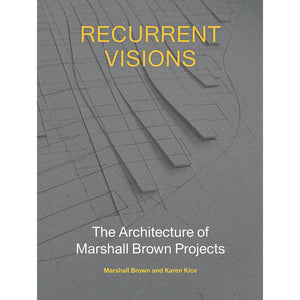 Recurrent Visions
The Architecture of Marshall Brown Projects
Description
Architect and artist Marshall Brown is making space for the future by remixing the legacy of modern architecture in this exploration of his visionary urban ideas, brought to life through extraordinary collages, drawings, models, and photographs.
Groundbreaking architect Marshall Brown presents a vision of the future through cross-disciplinary explorations that leverage the possibilities of scale, media, and time in this survey of three unique projects. With an introduction by curator Karen Kice, discover Brown's work through a deep dive into his seminal projects for New York, Chicago, and Detroit.
Recurrent Visions journeys into the cities, places, and spaces of the future crafted by the hands of today, with contributions from today's leading architectural thinkers, Monica Ponce de Leon, Joseph Becker, Allison Glenn, and Adrienne Brown, featuring three projects:
UNITY Plan for the MTA Vanderbilt Rail Yards, Brooklyn
Dequindre Civic Academy, Detroit
Smooth Growth Urbanism, Chicago
Discover the voice shaping the future of our urban experience. Ideal reading for designers, architects, and scholars, this book presents work that encourages discovery, exploration, and time travel, by one of the most forward-thinking architects and urbanists of our time.