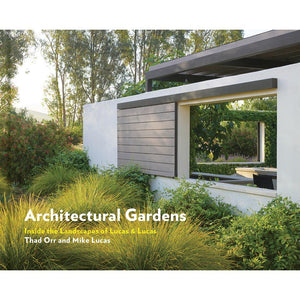 Architectural Gardens
Inside the Landscapes of Lucas & Lucas
Description
A portfolio of ten lushly illustrated residential landscape projects in California's wine country, each a lesson in the alchemy of garden design, created by landscape architecture firm Lucas & Lucas.
The work of landscape architecture firm Lucas & Lucas extends the architecture of the house into the garden through carefully selected elements of design. Each of the ten projects in Architectural Gardens includes a design narrative that addresses the interconnections between home and land, detailed captions, and a site plan. Readers will learn how to implement features such as landscape windows, breeze-catching grasses, cascading concrete waterfalls, and trees with thoughtfully cast shadows to transform their landscape. The book includes a roundup of Mike Lucas's favorite plants—those best suited to different types of properties and for different purposes like drought tolerance or fast growth. The featured projects will appeal to garden designers, landscape architects, landscape contractors, architects, and home builders, as well as home gardeners looking for inspiration.
PRAISE FOR ARCHITECTURAL GARDENS...
"The landscape practice of Lucas & Lucas epitomizes the casual, sun-kissed atmosphere of California's wine country. Architectural Gardens captures the vibe in 10 projects that illustrate 11 design lessons emphasizing a minimalist palette and sculptural approach to hardscape that combine grasses and live oaks with killer valley views. Photographs, gold-tinged with afternoon light, are atmospheric and aspirational—just add a glass of zinfandel."
– Landscape Architecture Magazine
"Lucas and Orr demonstrate that good landscape design balances elements between land and home, between the natural and the manmade. Their book would serve as a useful reference for garden designers, architects, and home gardeners alike."
– Library Journal