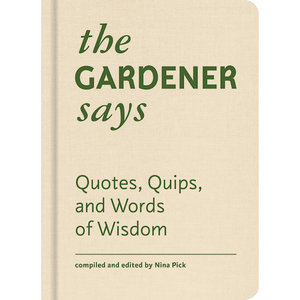 The Gardener Says
Quotes, Quips, and Words of Wisdom
Description
The Gardener Says invites readers to a festive garden party where guests ranging from Gertrude Jekyll and Henry David Thoreau to Michelle Obama and Michael Pollan share their insights and words of inspiration. Ranging from the humorous to the poignant, these quotes from gardeners, poets, philosophers, and landscape designers highlight both the joys and challenges of gardening---the exhaustion at the end of a long day's work, the satisfaction of seeing a flower blossom, the peace and happiness of time spent in quiet contemplation. A delightful hobby, a potent tool for ecological and social transformation, and a crucial reminder of our place in nature, gardening is, in the words of Mirabel Osler, the one occupation where "if you were to creep up behind someone at their work, you would find them smiling."


Editorial Reviews
Publisher's Weekly
Filled with humor, reflection, and a love of plants and planting, this breezy collection may just remind horticulturalists why they seek and find solace in their gardens.
Farm to Table
Looking for the perfect gift for the avid gardener who already has enough gloves and tools? This beautiful book is full of quotes on gardening. Nina Pick did a wonderful job compiling them all.
Head Butler
The earth turns. The pages fall from the calendar. And the first amusing garden book arrives. This one is a host/hostess gift for the passionate planter in your life....[I]t's a pocket-sized anthology: 150 pages of deep thoughts and witty comments about gardening.
The Oregonian
Tuck this pocket-size book in your garden vest or place it on a table near a window overlooking your yard. Its 158 pages will inspire you....[This] compilation of thoughtful and powerful insights helped me understand, on a personal level, my desire to garden.
The Recorder
The Gardener Says: Quotes, Quips, and Words of Wisdom makes it clear that working in the garden is not simply labor. It is a place to find happiness.
Washington Gardener
In The Gardener Says, you will be exposed to an abundant number of quotes that showcase all of gardening's many moods and phases. I would recommend this book to any gardener or non-gardener looking for a simple read about the highs and lows of gardening.