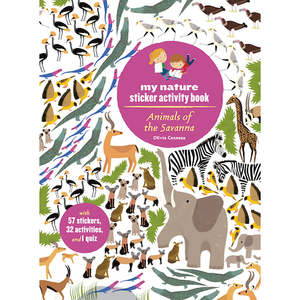 Animals of the Savanna
My Nature Sticker Activity Book
Description
Did you know no two zebras stripes are alike, that flies don't like to land on striped animals, that hippos eat lots of grass at night and let turtles rest on their back during the day? Learn fun facts about the exotic animals of the savannas of Africa, Australia, and Brazil, including zebras, giraffes, hippos, meerkats, and more. Place horns on an impala, hide lion cubs behind tall grass, and stick fruits on a tree for elephants, and test your new knowledge with a short quiz at the end.


Editorial Reviews
The New York Times Book Review
These are the rare activity books that can hold their own on the quirky, information-packed writing and exquisite artwork (reminiscent of midcentury American illustrator Charley Harper). Once the kids have absorbed a few facts, they'll be ready to go crazy with the irresistible glossy stickers (100 or so in each book) and their attendant sticker projects.